You will be amazed to find out these hidden storage spots in your kitchen. These ideas will help you make the full use of your space and organize your kitchen more efficiently.
1. Cookbook Storage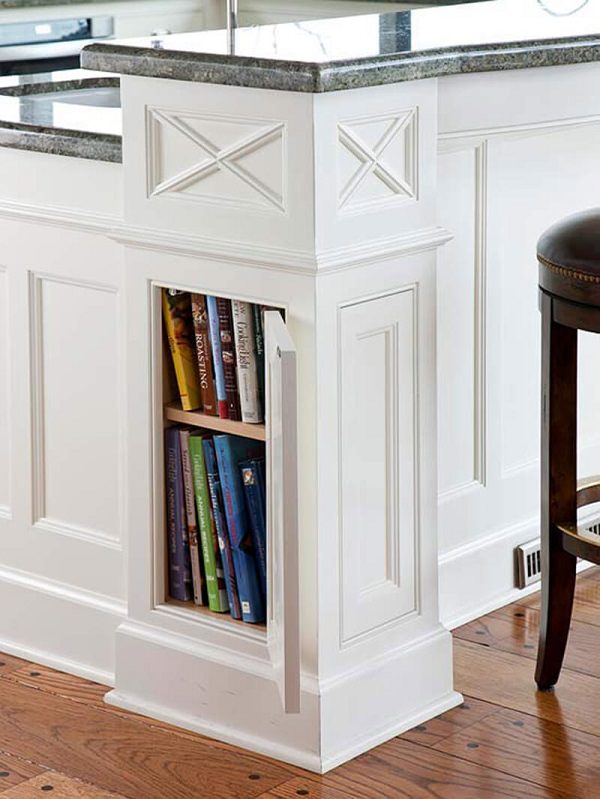 Do you love stacking up on recipe books but lack the space in your kitchen to accommodate all of them gracefully? Well, here is a fantastic idea that will reuse a simple kitchen island into a cute little cabinet by using decorative column corners to save your essentials.
2. Framed Picture Secret Cabinet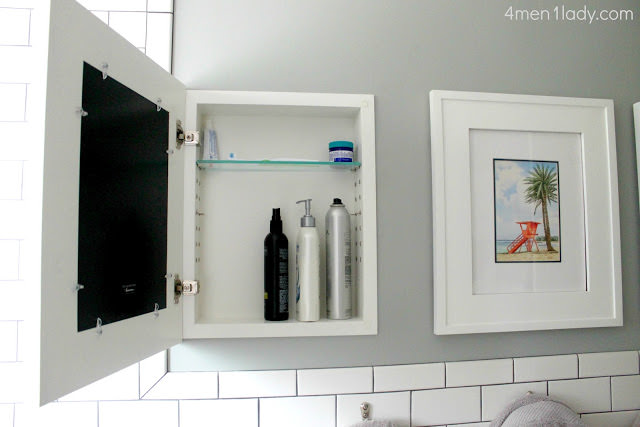 This wall-mounted secret cabinet is the perfect example of hidden storage with a charming appeal. What's particularly fascinating about it is that you can line up more than a few according to the amount of storage space you want and that too without making things unsightly. Although this idea is for the bathroom, but you can follow the same for the kitchen.
3. Tilt-Out Trash Can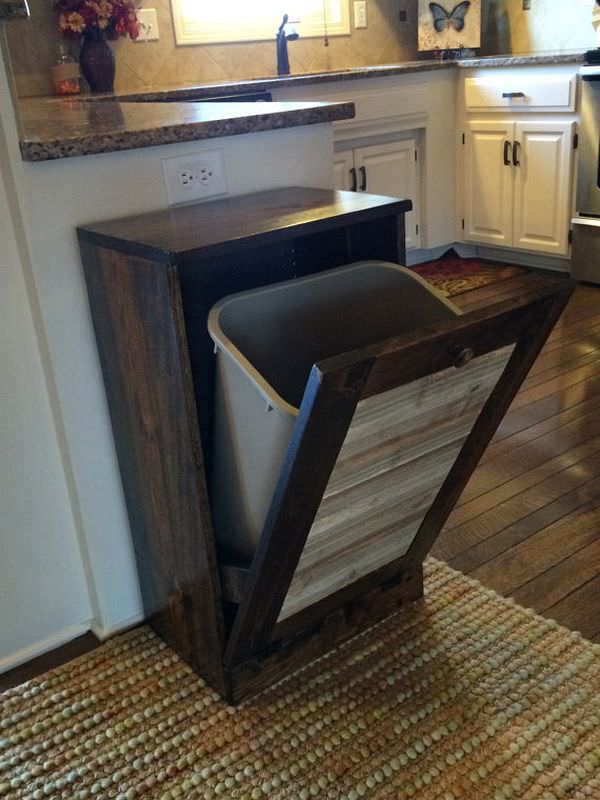 That oversized trash can is probably the most unattractive element of your newly refurbished kitchen. This trash can cabinet idea helps you get rid of the unattractive appeal while increasing floor space in the process.
4. Under Cabinet Drawer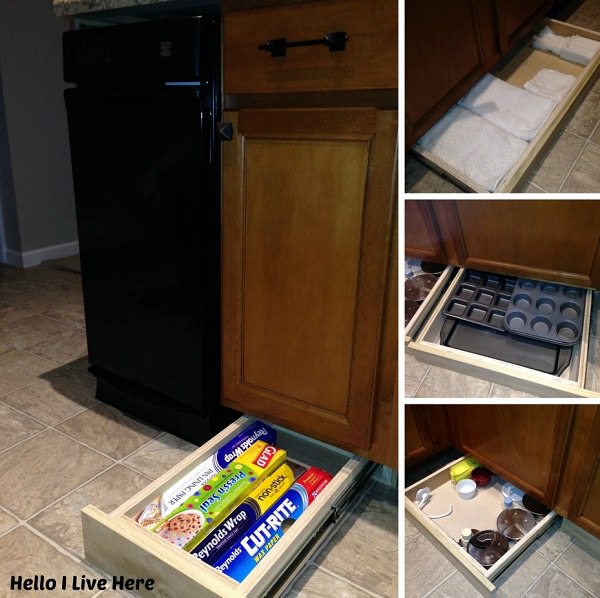 Extend your work space by making stuff drawers that not only keep those kitchen knick-knacks off the counter but also leave your guests wondering where you store your essentials in that tiny and tidy kitchen. Here's the DIY.
5. Cabinet Door Storage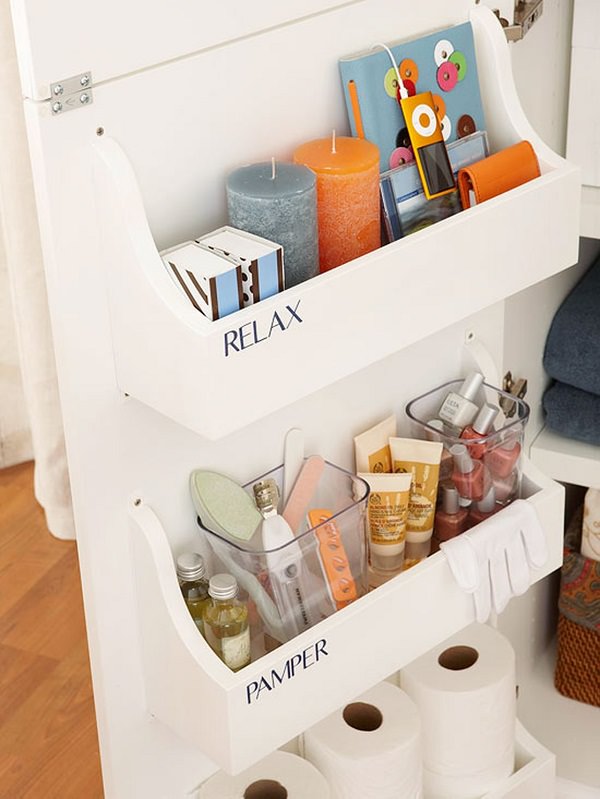 You don't need a huge array of cabinets to keep your kitchen essentials organized. Just use your cabinet doors as a cheap storage section by using a few local supplies and some easy instructions. This project is indeed a remarkable blend of quick access and smart organization.
6. Spice Collection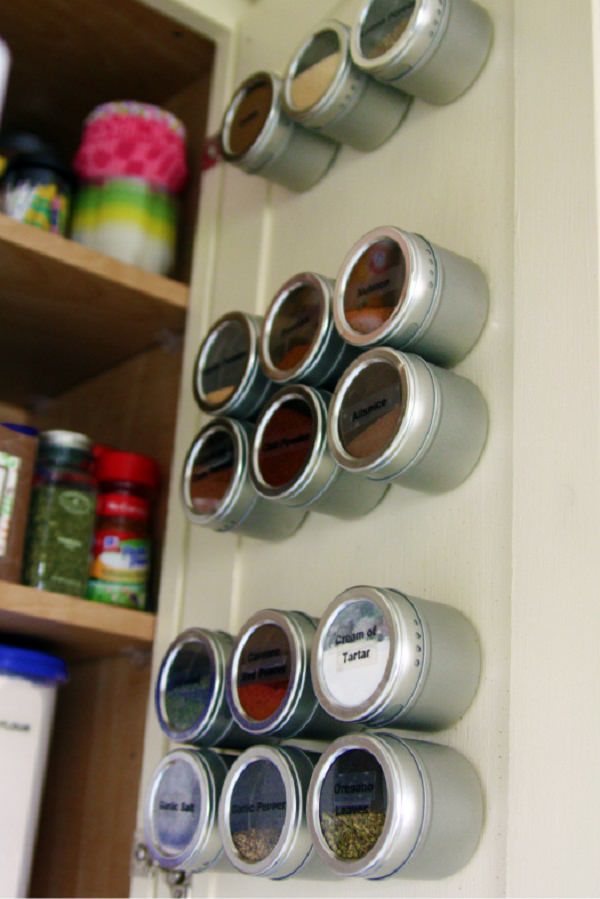 Is your spice rack in a constant state of disarray? Or, is your kitchen too small to accommodate your spice collection? Then how about a set of magnetic spice tins that rest neatly on the inside of the cabinet door, and detach without leaving an unsightly mark behind. Check out this simple DIY here.
7. Magazine Holder Storage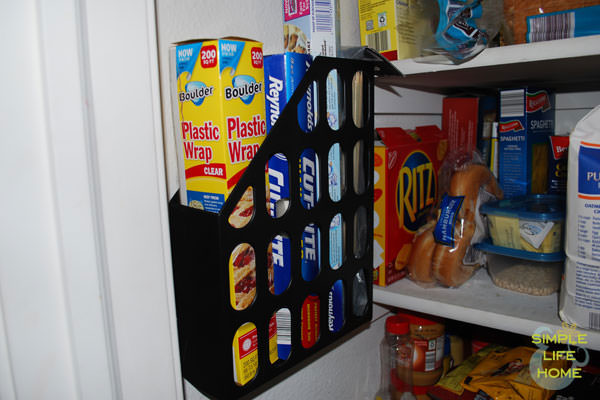 With this DIY idea in your head, you won't need to make space to fit in your storage boxes; just adhere a mini magazine holder on the inside of a cabinet door or drawer and fill it up with your aluminum foil boxes and plastic bags.
8. DIY Canned Food Organizer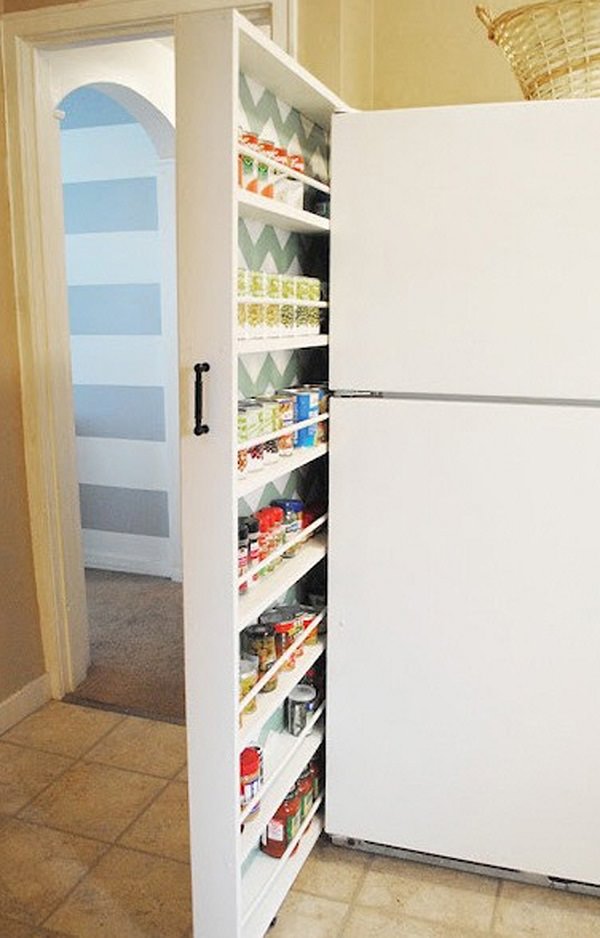 Is your kitchen too small to accommodate a pantry? Well, not anymore. This smart idea will show you how to make the most of that space lying between your wall and refrigerator to store your collection of canned food.
9. Kitchen Sink Tip-Outs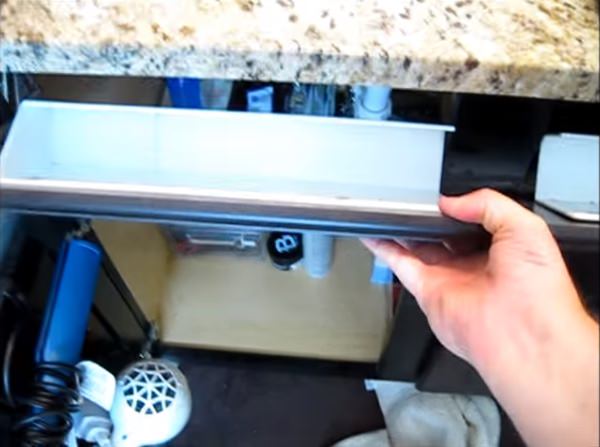 A pencil, a drill and lots of patience are just the things you need to reuse that waste space lying below your kitchen sink into a compact storage spot for stashing away your cleaning supplies and other small stuff. And the fact that they are hidden from view gives you the freedom to clutter without feeling guilty! Here's the video tutorial.
10. Hidden Paper Tower Holder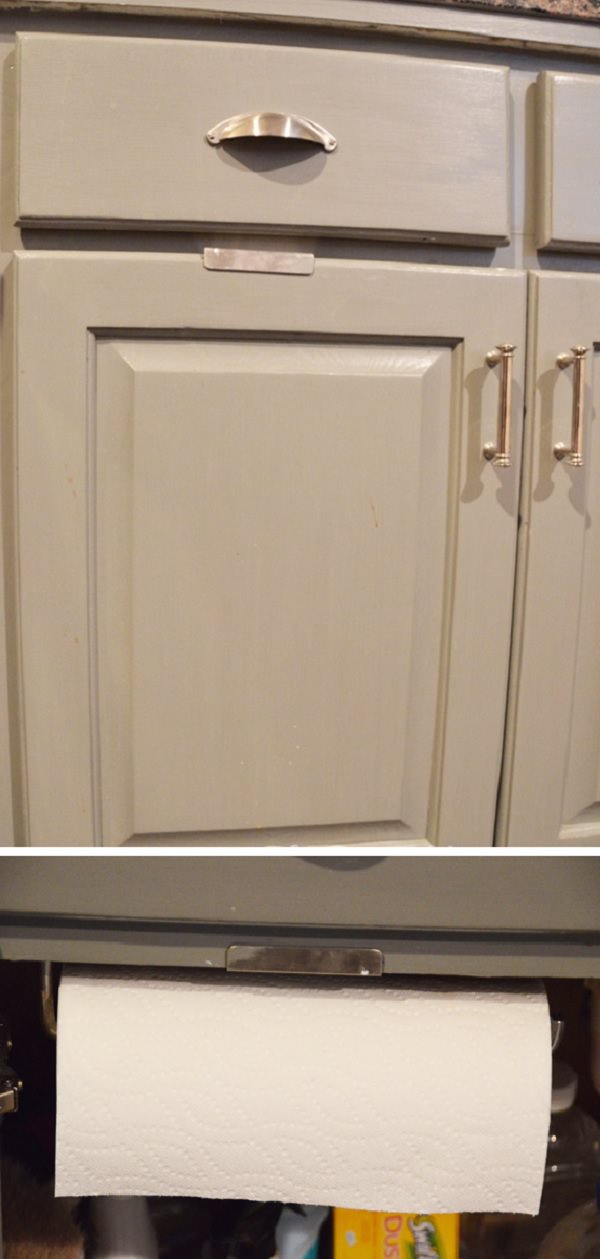 Talk about making the most of every inch! Gush over this nifty and perfectly-sized paper towel holder that is not only easy to access but also leaves your kitchen counter free for food prep.
11. DIY Trash Bag Dispenser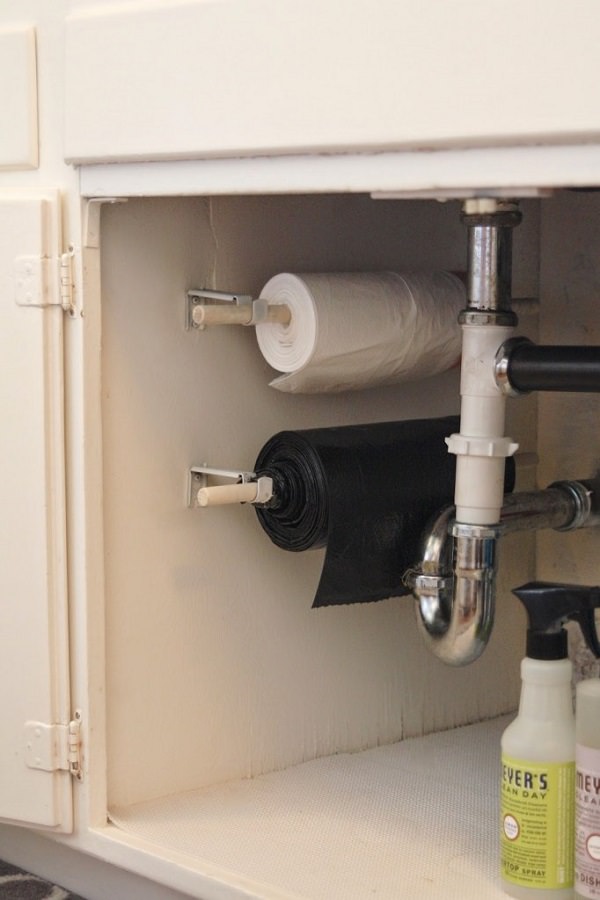 Don't you just hate looking at those giant garbage bags sitting around floppily near your polished kitchen island? Stuffing them under the sink does no good either as they take up too much space. Try making this trash bag dispenser instead, that fits inside your drawer nicely, and removes even the slightest hint of mess from your kitchen.
12. Tension Rod Under Sink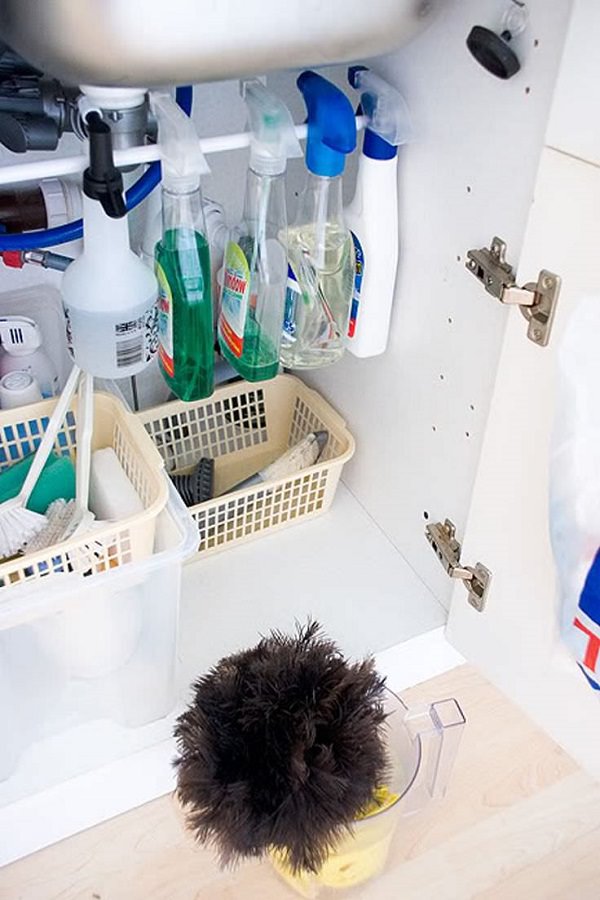 Ever thought how that seemingly unflattering curtain rod could help your kitchen clutter? Well, this DIY post shows you how to install a tension rod under the sink, to get quick access to your cleaning supplies, while leaving lots of space for rags and sponges beneath.
13. Under-Sink Storage Bins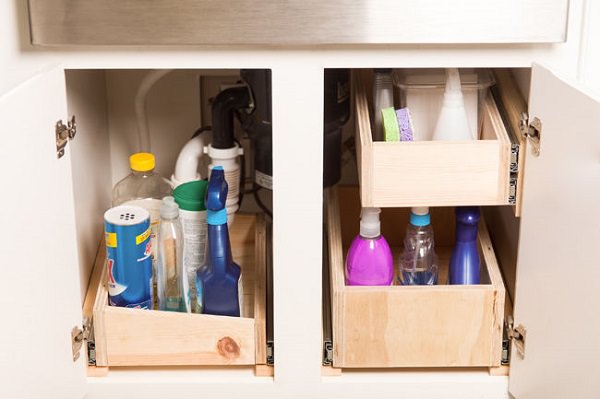 If the space beneath your sink is just like mine, it's surely a cluttered mess of sponges, spray bottles and plastic bags. This DIY idea shows you how to store these items on the door of your sink cabinet, thereby helping you remove visible jumble and keep all those cleaning essentials handy.
14. Fridge Gap Slide-Out Pantry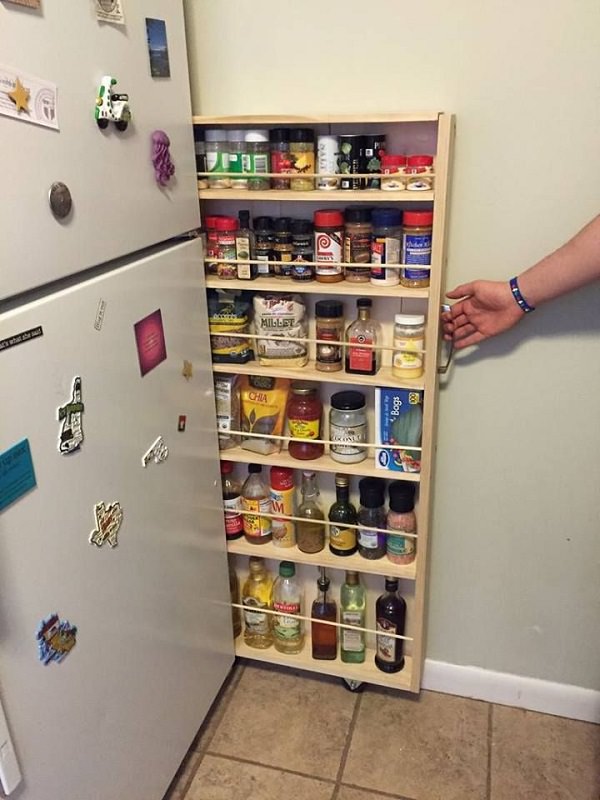 You ever thought that the forgotten gap between the freezer and the wall could double as a convenient spot for keeping a nice DIY roll-out pantry! It is easy to build and doesn't take up additional space in your kitchen. Plus, it's convenient to use as well and can you imagine how much pride you will feel while pulling the sliding pantry in and out!
15. DIY Kitchen Storage Boxes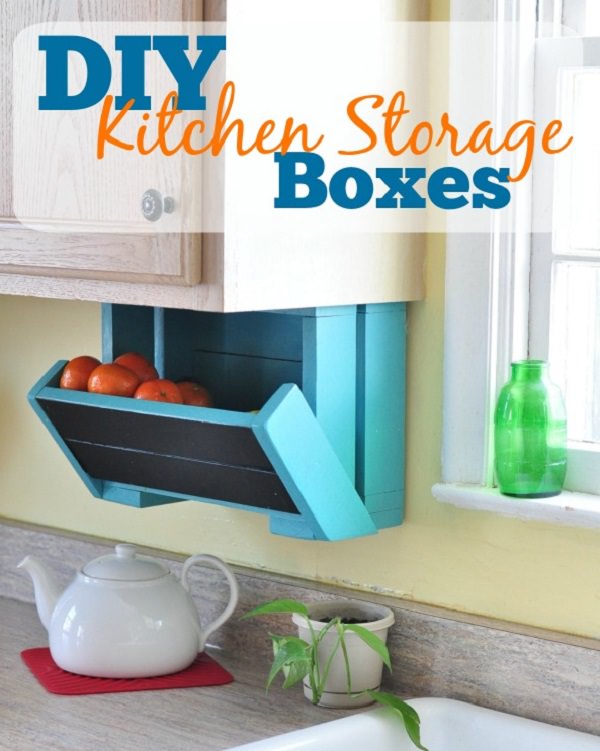 Your first thought when reducing visible kitchen clutter is to store everyday counter items and produce in a place where you are not likely to lose them again. This simple DIY plan uses wood boxes to keep your veggies and fruits off the counters and yet make them accessible enough when in need of a quick snack.
16. Hidden Utensil Storage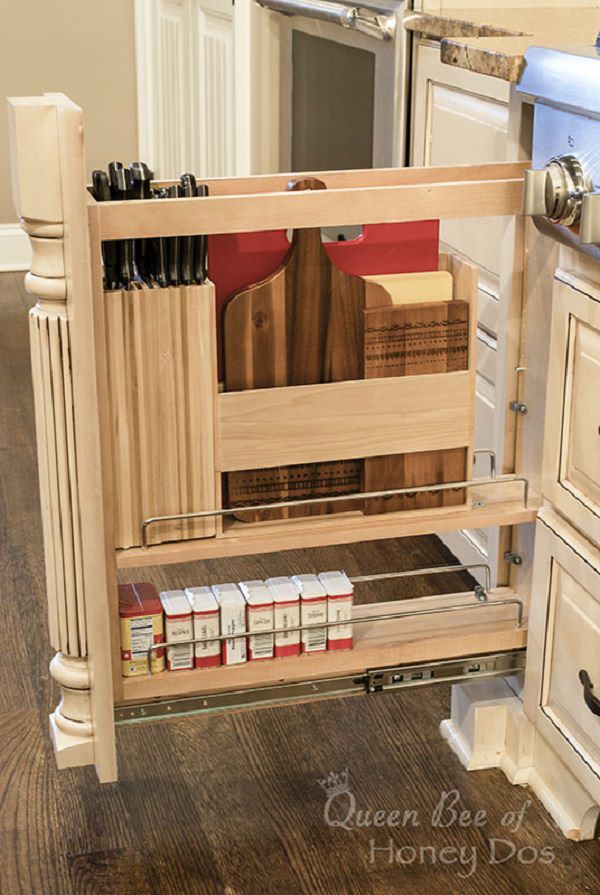 It's impossible to talk about hidden kitchen storage and not mention this unique utensil organizer. This elegant wooden column may look like a decorative piece at first glance, but it is essentially a slim, slide-out drawer, ideal for holding your spice jars, utensils and flatware.