These DIYs and Ideas will help you get rid of kitchen cabinets stains and keep it clean!
1. Make DIY cleaning wipes
Rather than rely on manufactured products that have chemicals, why not make your DIY cleaning wipes? Put equal parts water and vinegar in a bottle and add essential oils of your choice in a mason jar. Use them whenever you need to wipe the cabinets quick.
2. Use a blow dryer to remove water rings
If you have had them on your tables or cabinets, you know how unpleasant and conspicuous these rings can be. Hold a blow dryer over the white condensation rings for a few minutes, and you will see the rings disappearing.
3. Use lemon and salt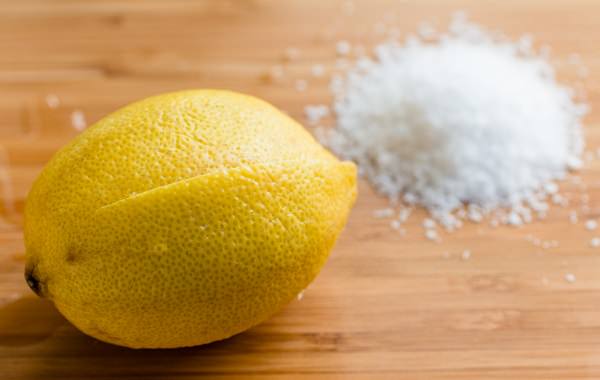 All sorts of liquids can spill on the kitchen cabinets and get rid of an unwanted smell should not be a problem if you know this hack. Mix lemon and salt with some water and wipe down the wooden surfaces in your kitchen that have unpleasant smells to remove them.
4. Recondition wood using olive oil
After removing some stains, the condition of the table may not be as you would have preferred. You can recondition the wood by wiping down surfaces with olive oil.
5. Use oil to wipe off sticky kitchen dust
If the surfaces of your kitchen cabinets have sticky dust, don't spend too much time wiping and not getting every spot. Use olive oil and a paper towel to wipe and finish off with hot water and detergent to get shiny cabinets.
6. Use a sponge to wipe clean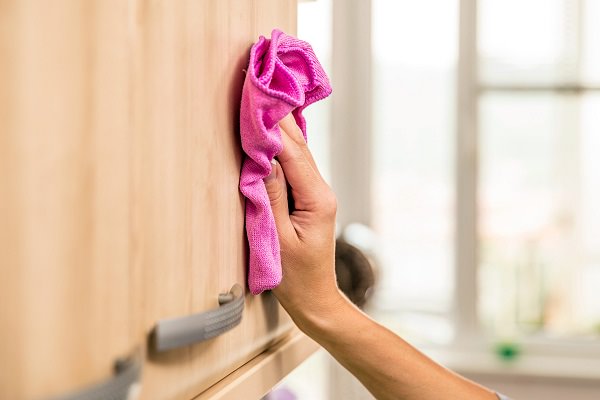 A sponge or a soft cloth usually works magic when it comes to wiping kitchen cabinets. The two alternatives will not leave ugly scratches on your cabinets if you want to preserve the glossy look. Besides, a sponge wipes out grime and heavy grease very well.
7. Use iron and cotton towels to remove water rings
Water rings are a nuisance you can do away with quite easily. Place a cotton dish towel on the stained area and put the iron on top of it at medium heat. After a while, the ring will begin to disappear.
8. Use vinegar to dissolve water stains
Hard water can leave white spots on surfaces when it dries up. To take care of this, pour drops of vinegar on the stain and then wipe down the cabinets.
9. Baking soda removes tough stains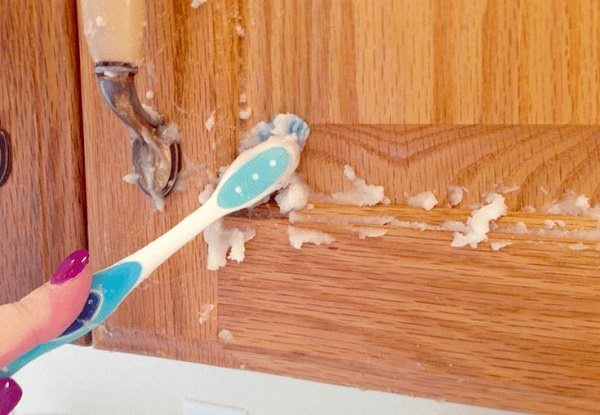 If you have wiped the cabinet a few times already and the tough stains still persist, you need not worry about harming the wood using something tougher to scrub. Make a paste of baking soda with water and apply it on the surfaces for 10 minutes. Wipe with a sponge to remove the stubborn stains.
10. Coconut oil adds shine to wood
Kitchen cabinets and tables around the house can always do with a coconut-oil rub every now and again. Rubbing coconut oil on wooden surfaces not only makes them shine but also removes oil-soluble impurities and dust particles.
11. Use rubber mats to line the cabinets
Aside from protecting the wood, these also help keep the cabinets cleaner. By having a rubber mat on cabinet surfaces, you prevent any liquid from getting to the wood.
12. Remove greasy stains using vinegar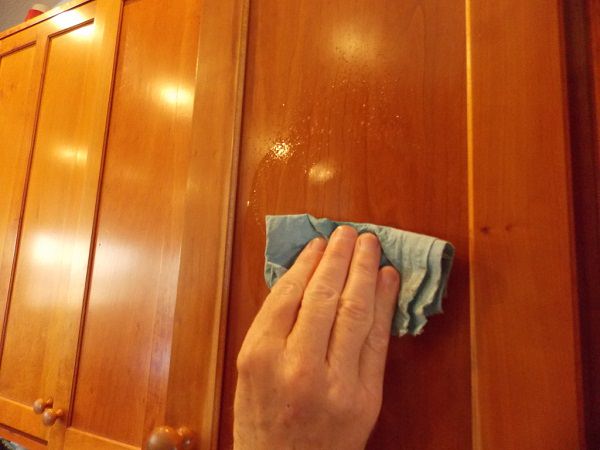 Greasy kitchen cabinets can give you a headache when it comes to cleaning, but not when you can use vinegar. Spray a 50/50 mix of vinegar and water on the cabinets and let it sit for about two minutes. Finally, clean using dishwashing soap.
13. Remove gunk with baking soda and vegetable oil
Getting the gunk buildup on your cabinet surfaces off may need you to wipe them more than a few times before you are satisfied with the results. However, blending vegetable oil with baking soda does the trick much faster; the powerful mixture removes gunk without a hassle.
14. Use a second towel with water to remove cleaner from cabinet surfaces
Once you are done with all the cleaning work on your wooden surfaces, wipe them down with a towel dipped in plain water. This gets any remainder of the chemicals off the surfaces and reduces the smell of detergent in the kitchen.
15. Use an old toothbrush for tough stains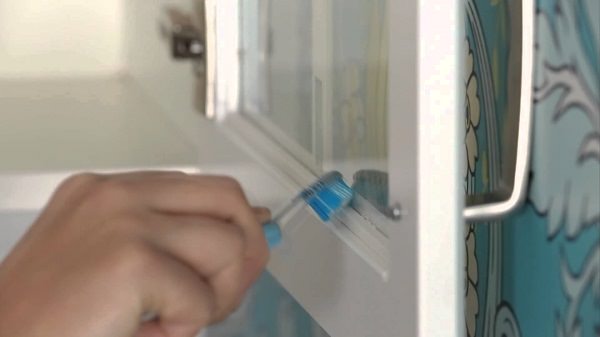 If wooden surfaces around the kitchen have stains that won't come out no matter how many times you wipe them with a sponge or wet towel, try using an old toothbrush. Once you apply your stain removal mixture and it has sat for a while, scrub the areas softly with a toothbrush.