If you are having trouble keeping your cutleries organized, these ideas are surely going to help you!
#1 DIY Silverware Organizer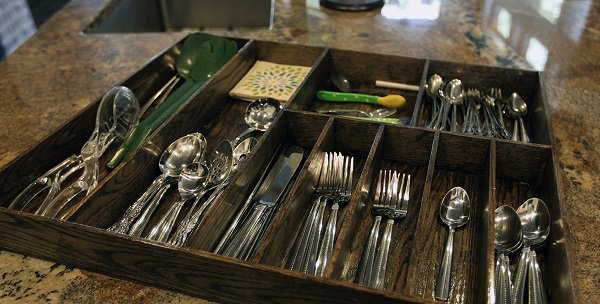 You don't have to be particularly artsy to create this stylish cutlery organizer. Just a single piece of wood, some woodworking tools and you're good to go. This simple DIY idea is a great project for those times when your hands are itching to whip up decorative and purposeful pieces of craft.
#2 Wooden Kitchen Holder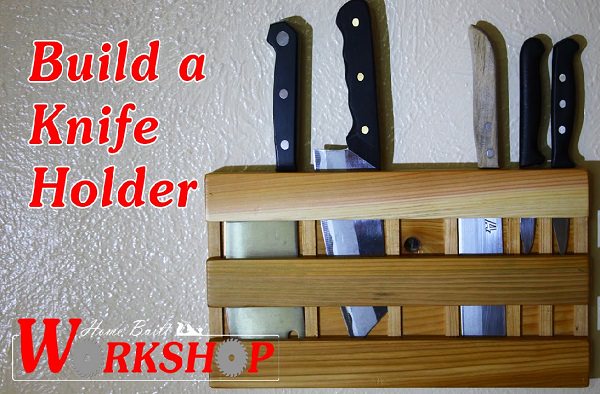 If you are looking to save your cutlery without using too much of your counter space, consider this simple DIY idea that uses leftover fence pickets to create a fuss-free wall-mounted cutlery holder. It's a smarter alternative to a store-bought knife block as it's more accessible and budget-friendly.
#3 Upcycled Coffee Cans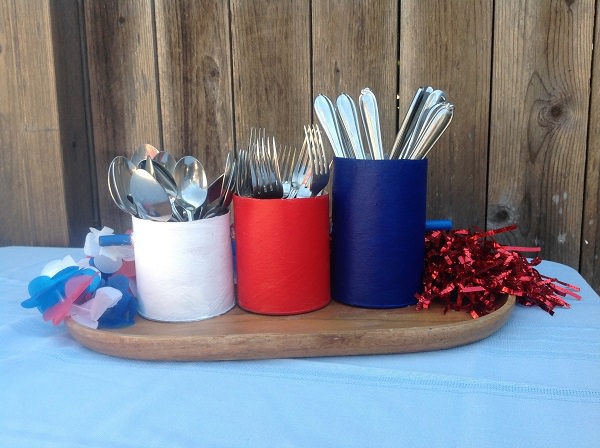 Instead of throwing away your empty coffee cans next time, repurpose them into nifty cutlery holders for your kitchen. You can even showcase them on your mantelpiece or use them to infuse party mood to a barbecue setup. Here is the video tutorial.
#4 DIY Newspaper Spoon Holder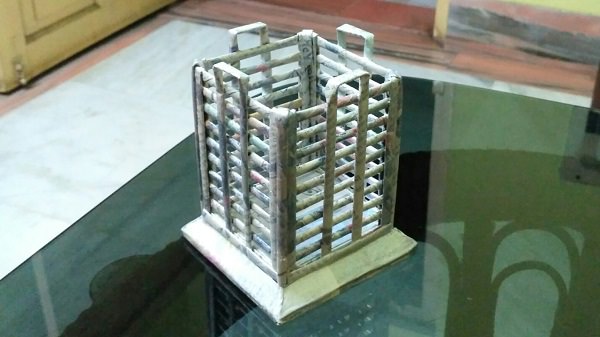 Salvage old scraps of newspaper and use them as materials for your next cutlery storage project. Done in 15 minutes flat, this DIY idea is apt for people who are looking to store their flatware without taking up too much space in the kitchen.
#5 Upcycled Plastic Bottle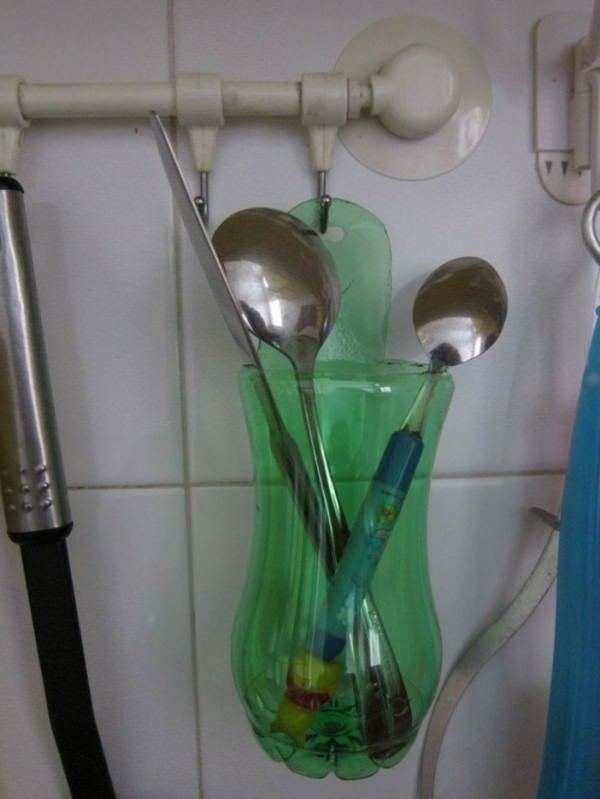 Make this simple and easy spoon holder from a plastic bottle. All you have to do is to cut the plastic bottle in half and hang it somewhere in the kitchen. An ingenious way to store your cutlery, this impressive storage piece will save you money and space.
#6 Popsicle Stick Holder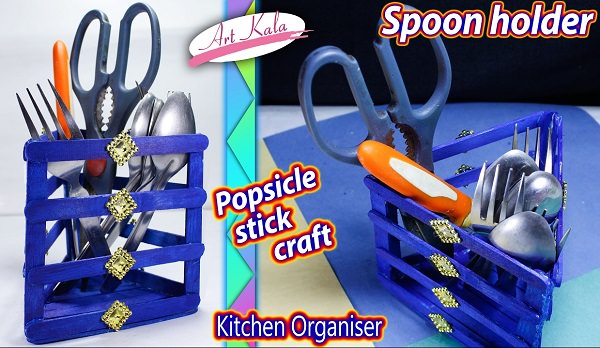 Who knew popsicle sticks were so versatile! This artsy, colorful DIY project lets your imagination run into overdrive; have fun painting sticks in various colors to create a stunning spoon holder that is sure to bowl your guests over.
#7 DIY Cardboard Holder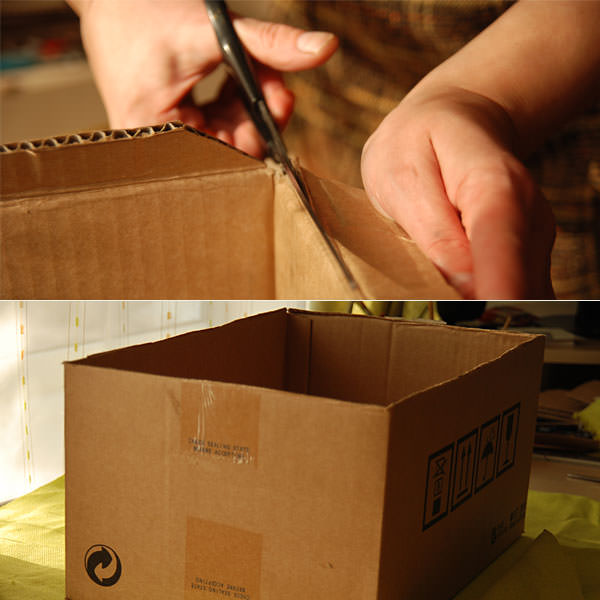 When you are running out of space to accommodate a separate drawer for your flatware, think of cardboard. This seemingly unimpressive material can be manipulated in surprising ways to create an item that is not only helpful but also attractive. Check out the tutorial.
#8 Shot Glass Silverware Holders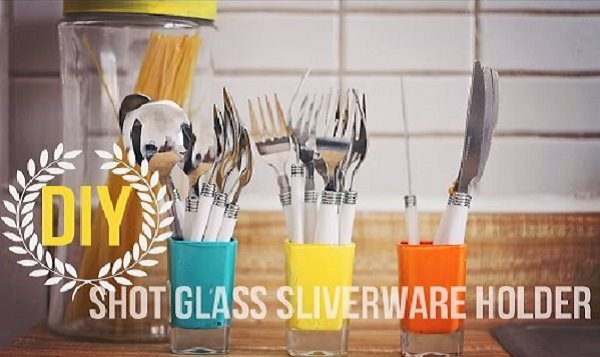 If your kitchen drawer is too small to fit silverware dividers, consider investing in space-saving shot glasses. Paint them the color of your choice and voila! You have contemporary cutlery holders that last long and even add an element of drama to an otherwise dull kitchen. Check out the DIY on youtube.
#9 DIY Sponge Kitchen Stand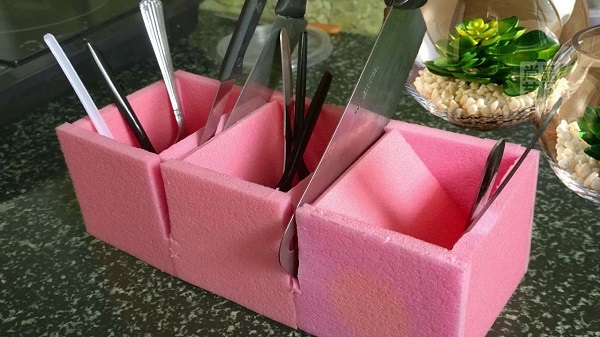 With just some hard sponge, glue and lots of patience, you can create a smart kitchen holder for your spoons and knives. This is an excellent activity for your kids, or when you are planning to downsize and shift to a smaller home. Instructions here.
#10 Wire Basket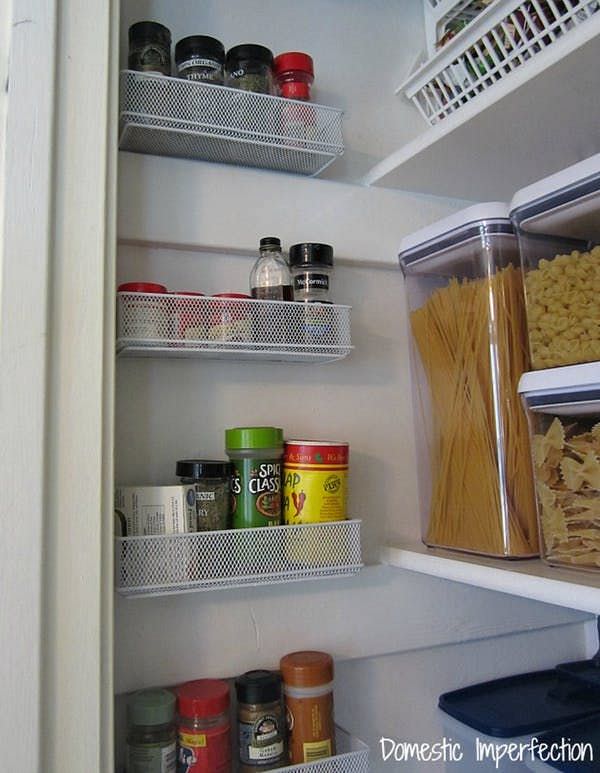 Spruce up an old, rusty wire basket lying around in your home into this fashionable holder for your precious cutlery. Swap out the existing rusty look with white paint for a polished appeal. The result is stunning, and you will always know if any of your spoons go missing!
#11 Jeans Pockets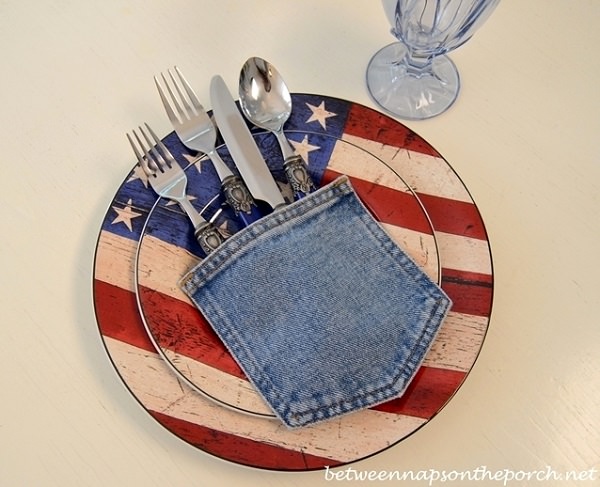 This incredibly unique idea is an excellent way to store all your flatware in one place. Plus it's a great space-saver and doesn't poke a hole in your pocket either. Another advantage is making use of your favorite jeans you don't wear anymore but love them too much to throw them away.
#12 Crayon Can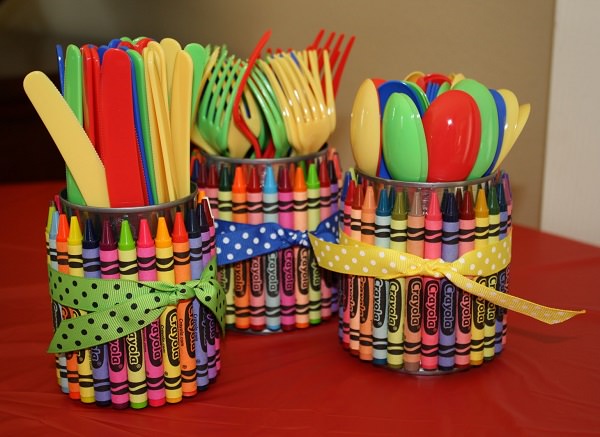 Engage your kids in this creative and intriguing DIY project; inspire them to properly arrange the cutlery and experiment with dynamic colors to create a captivating flatware storage that is sure to liven up any room of your house.
#13 Chalkboard Glass Jars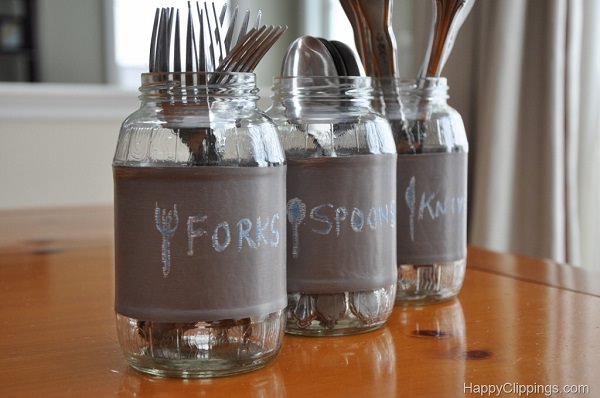 There is a reason why DIY ideas involving chalkboard paint are so popular- for starters they give your item versatility and style. Plus, they have a rustic appeal that blends well with modern decor. All you have to do is swap the words written, or change the pictures drawn and bingo! The entire item is transformed into an aesthetic and useful piece of art.
#14 Mason Jar Crate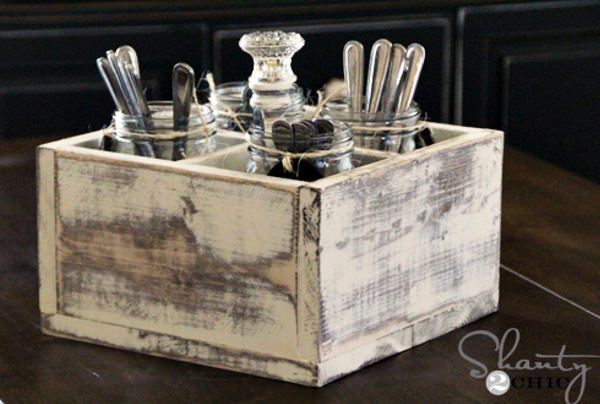 If you are looking for a chic and sophisticated DIY cutlery storage idea, then this is for you! It's tough as nails take up little space and look like a decorative element when kept as a standalone item! And the best part is that it's portable, so the flatware is always accessible, and if you ever get bored of the location, you can easily move it around as per your convenience.
#15 Flower Pot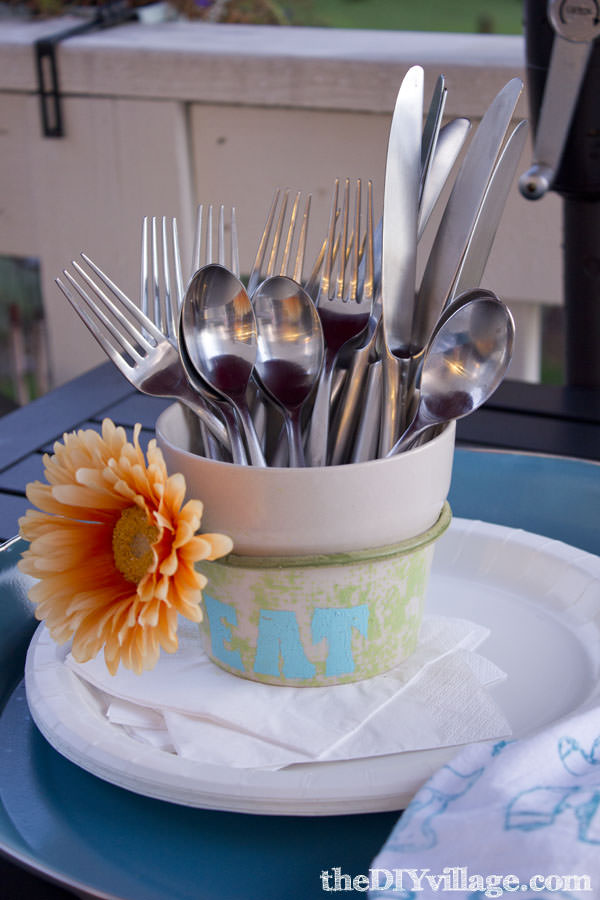 If you have old flowerpots that you don't need anymore, here's a nice idea on how to recycle them. Transform them into a trendy flatware holder and let your imagination go wild decorating them as per the moods of the season. They are great for decorative items too, especially if you are planning to invite your friends over for a cookout session in the yard!
#16 Legos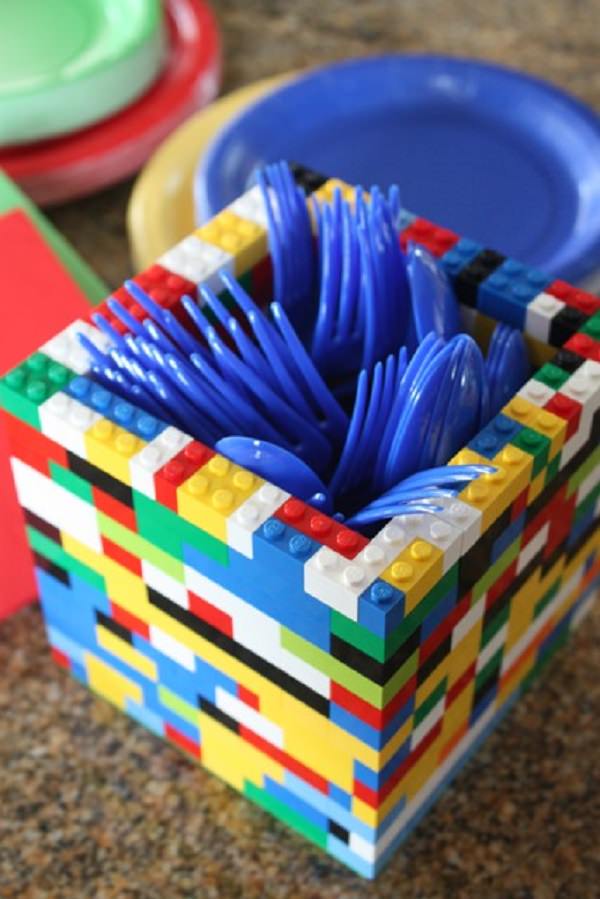 Legos aren't just for playing! Involve your kids in this fun DIY that uses simple Lego building blocks to create a colorful container for your flatware. Place it on the mantelpiece or the kitchen shelf where it can act as a conversation starter and even attract compliments from guests.
#17 Tin Cans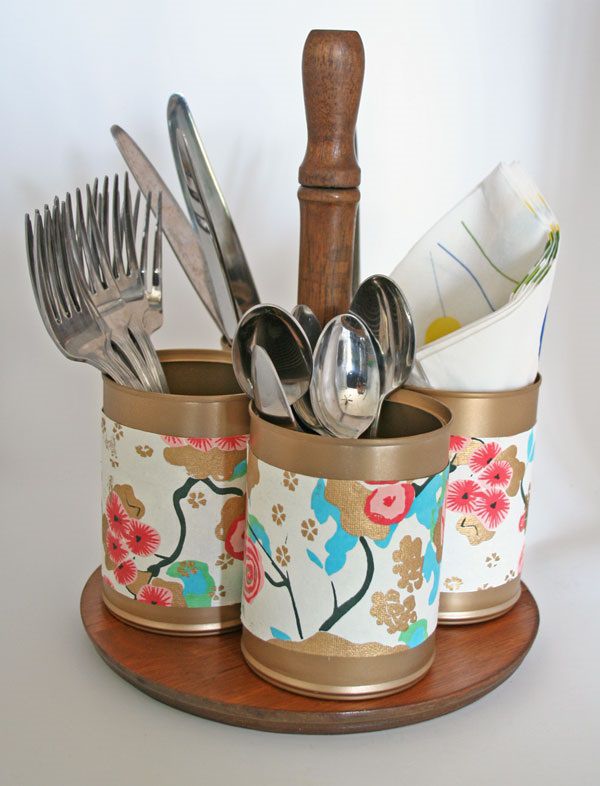 If you are a bit of a health freak, you must be having old soup cans hanging out in your wastebasket. Well, here is an easy DIY idea to upcycle those tin cans into beautiful little flatware holders. All you need is some spray paint of your favorite colors.
Have fun experimenting with creative embellishments for color accents. Mix and match by your kitchen decor or flatware design.
#18 Napkin pockets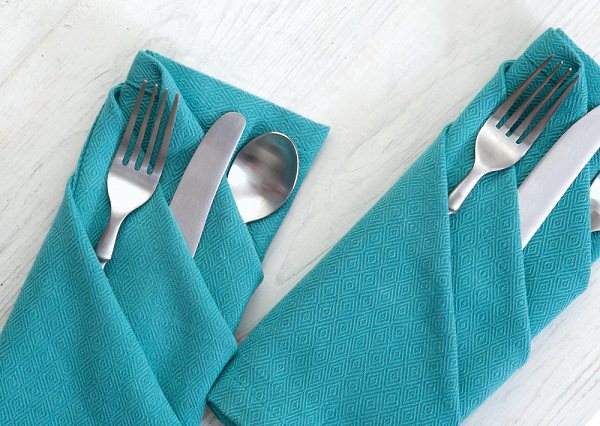 Have your cutlery neatly arranged and ready to use in these concise napkin pockets that are apt for guests trying to switch from ice-cream to food. All you need is some dinner napkin, burlap and attractive pieces of ribbon, that's it. Use contrasting napkins to go with your color scheme and use the arrangement as a substitute for a costlier centerpiece. Here is more on it.
#19 Upcycled Doors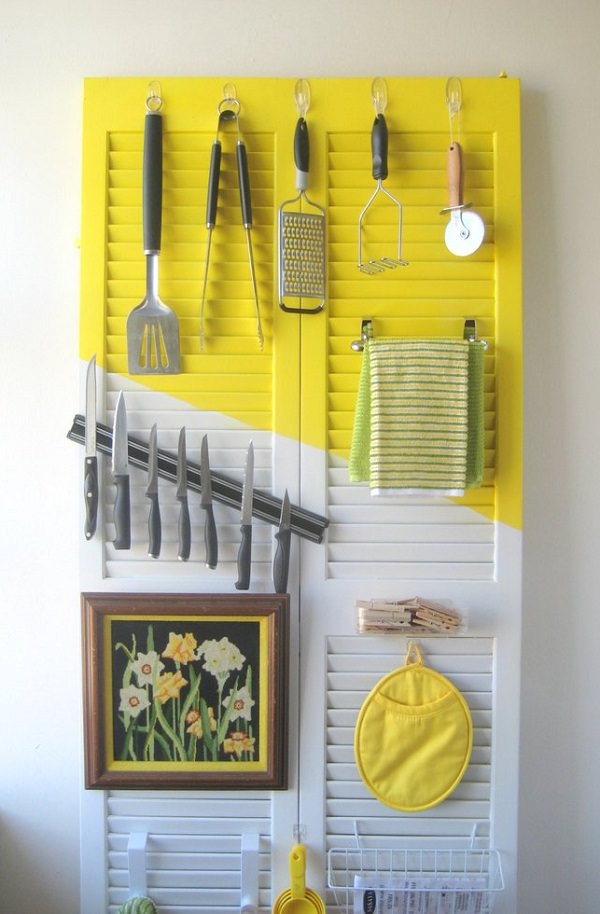 Mason jars, wine bottles, wire crates and tin cans all fall in the category of ordinary cutlery holders. How about something that is chic, unique and yet durable? Well, these refurbished doors are just that. Apply a fresh coat or two of paint on your kitchen door and hammer a few hooks on it to hang up your flatware. This DIY idea shows you how to save space while storing all your flatware in the process.
#20 Pegboard with S-Hooks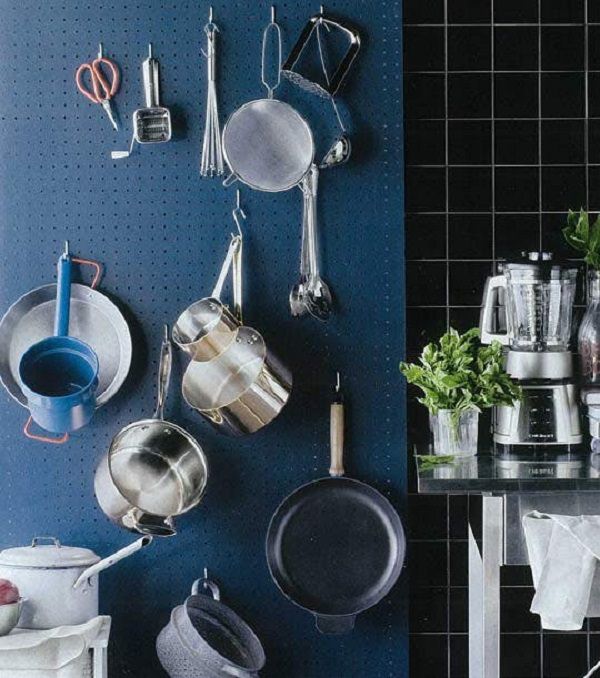 Your kitchen wall might be an exciting playground for your creative DIY ideas. This one, for instance, uses the power of paint to transform an old-forgotten wall into a striking background for hanging your pots, pans, and flatware. This is also a nice way to create visual impact in a limited space.
#21 Paper Towel Cutlery Holder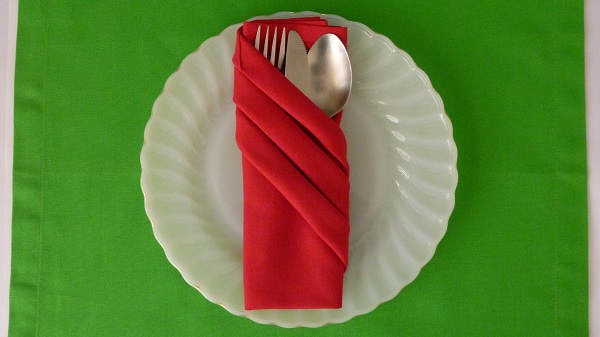 Enhance the appeal of a beautifully set party table in five minutes with this cute silverware pouch. The elegant napkin folds show attention to detail but are casual enough for a somber brunch. And this grab-and-go option is a great way to allow easy access to frequently used items. See the tutorial on YouTube.