These simple and creative ideas will make sure your spices stay organized and easily accessible.
1. Wire baskets for hidden storage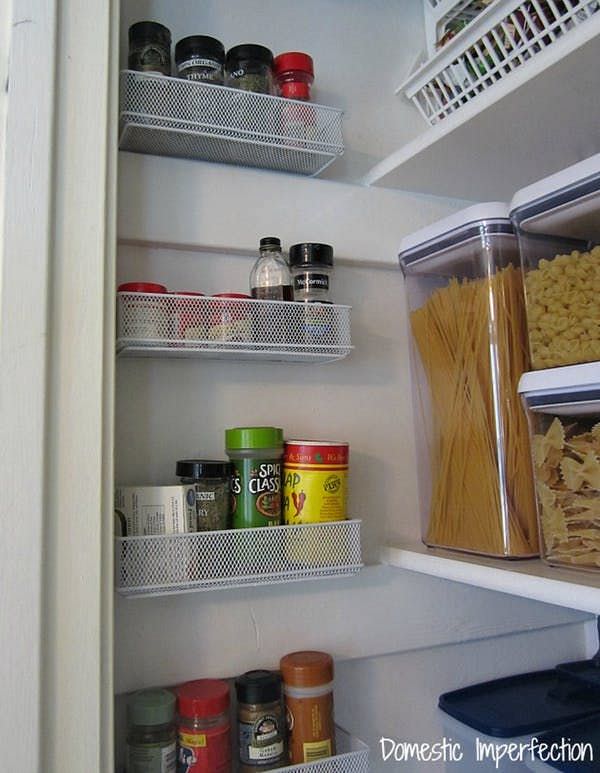 Wall storage in your pantry makes for the best hidden spice storage. Use wire baskets and even creative spice racks to organize fully. The key is to keep the clutter away for a clean look.
2. Use a hanging wooden pallet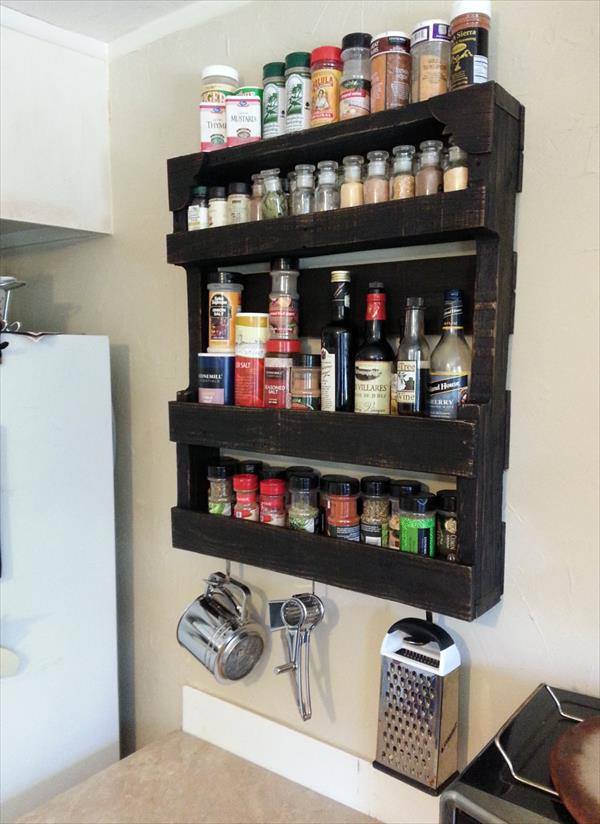 A wooden pallet can provide a lot of space while leveraging on aesthetics. All manner of spices can be organized in various shelves while leaving some hanging space for other appliances.  More info on it here.
3. Test tubes for spicy storage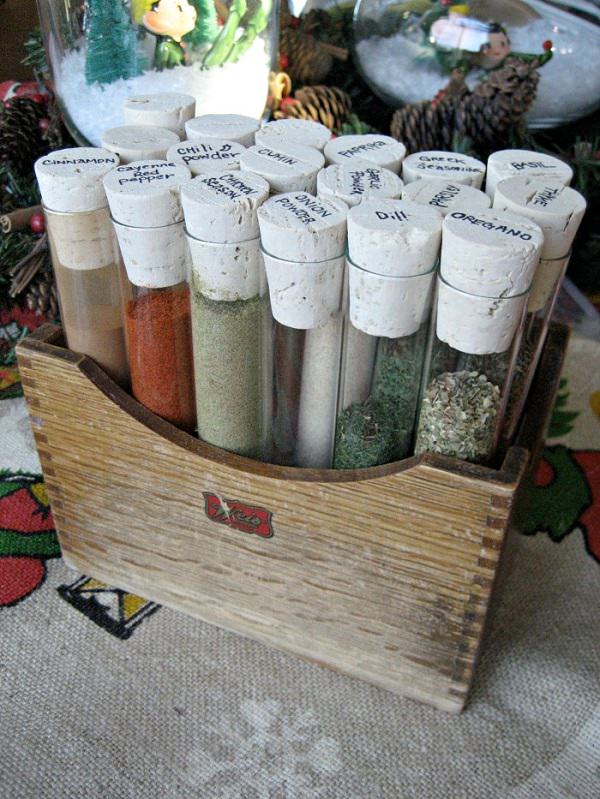 Test tube spice racks are both nerdy and fashionable. More so, they optimize space and store spices in order that is appealing and convenient. With a few tools at home, here is how to create one.
4. Use a versatile wood cabinet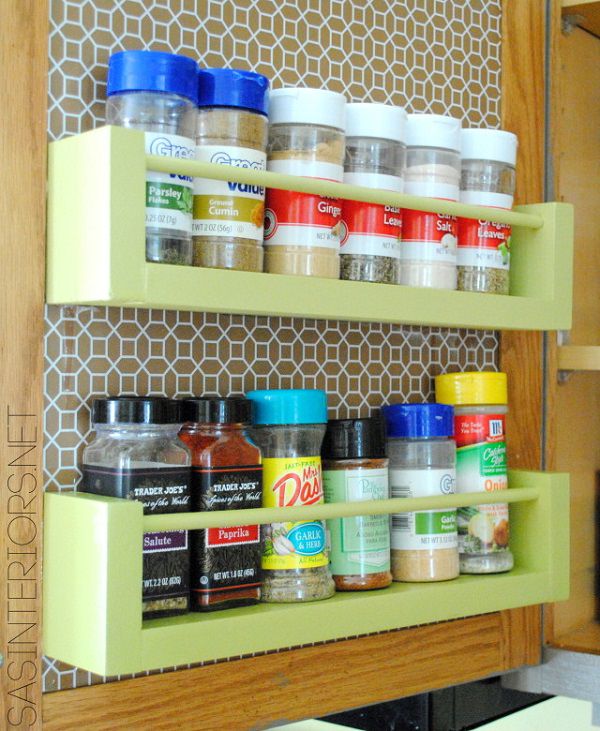 A versatile wooden spice cabinet can add personality to your kitchen. Better yet, creating this DIY rack is easy to do.
5. Old vintage vessels work well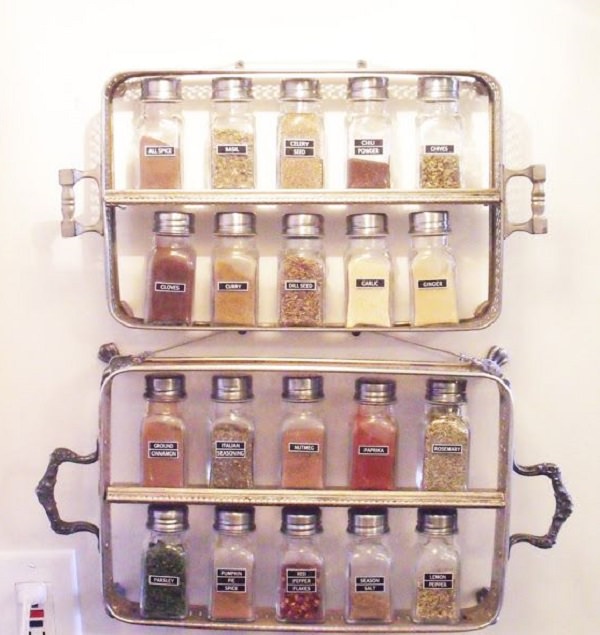 Get creative with old trays or vintage vessels. This easy DIY can be completed in no time and requires just basic skills.
6. Use magnetic baby food jars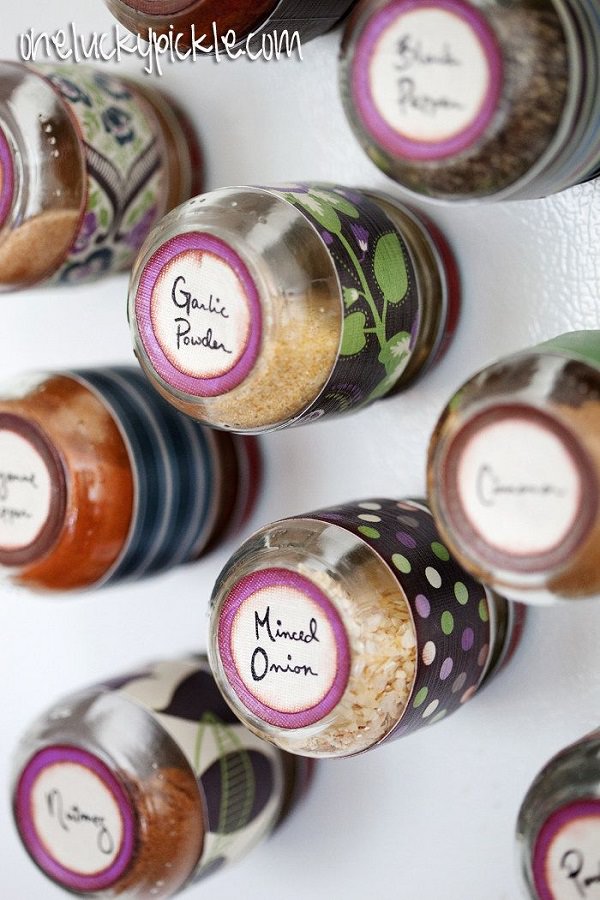 Baby food jars can save you a lot of money; no need to buy sophisticated spice jars. With a few magnets and good labeling, you will have the best spice storage solution for your kitchen. Here's the DIY.
7. Build in shelves for more storage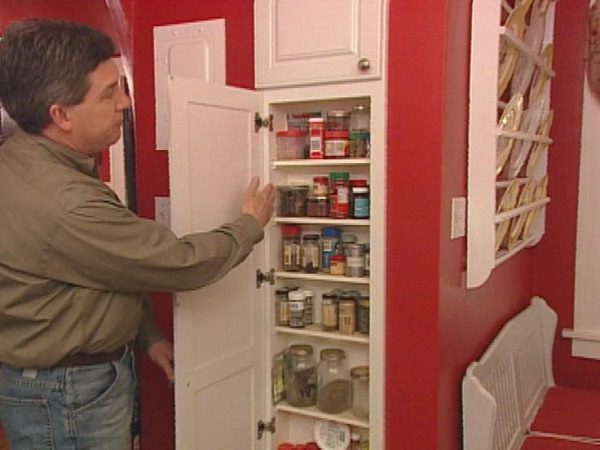 When you are running out of spice storage options, why not dig deeper into your wall for that built-in shelf. This shelving can also add into the overall decor for a better-looking space.
8. Stick magnetic spice cans on fridge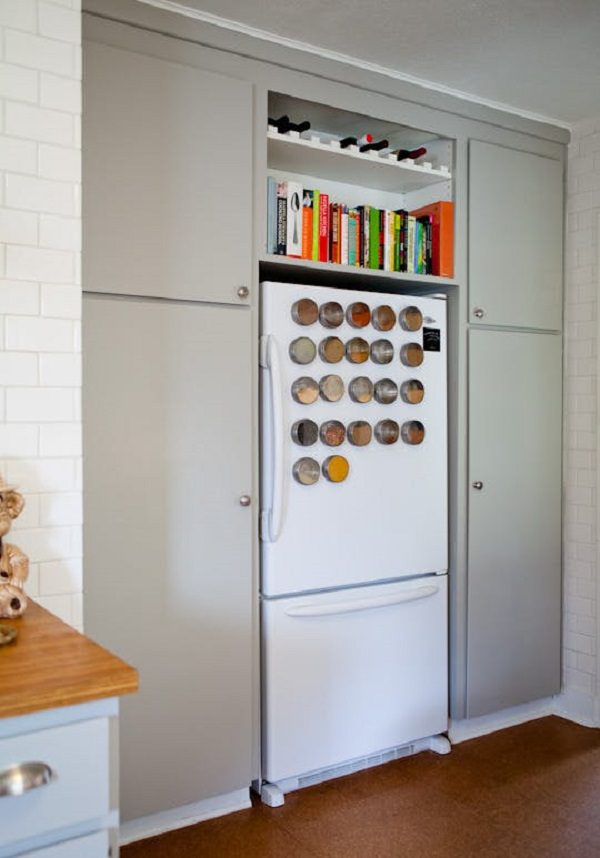 Who said you cannot stick your spices on your fridge. This idea is great and functional. With simple tins and magnets, you can also create an adorable gallery like this.
9. Add vintage appeal using old coke boxes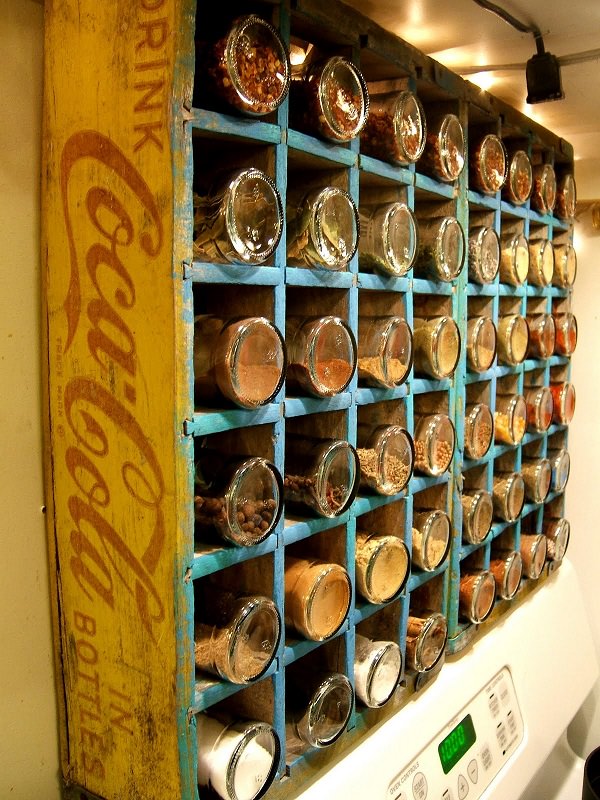 It is amazing what old coke boxes can do to your spice storage efforts. This chic and functional idea works brilliantly. Check out the tutorial.
10. Renovate your pantry door for more space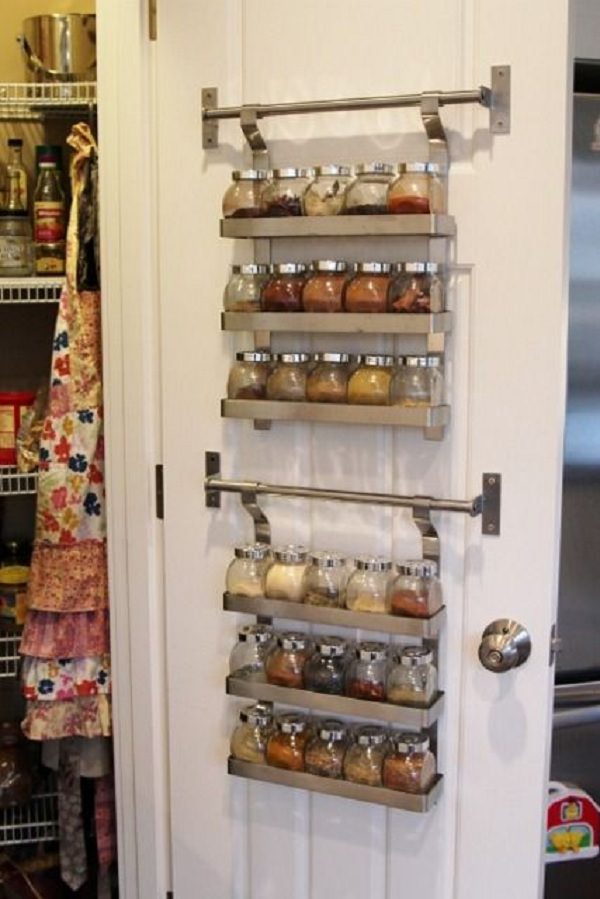 Your pantry door can give you great storage space when you add the right racks. More about it here.
11. Store spices in bulky jars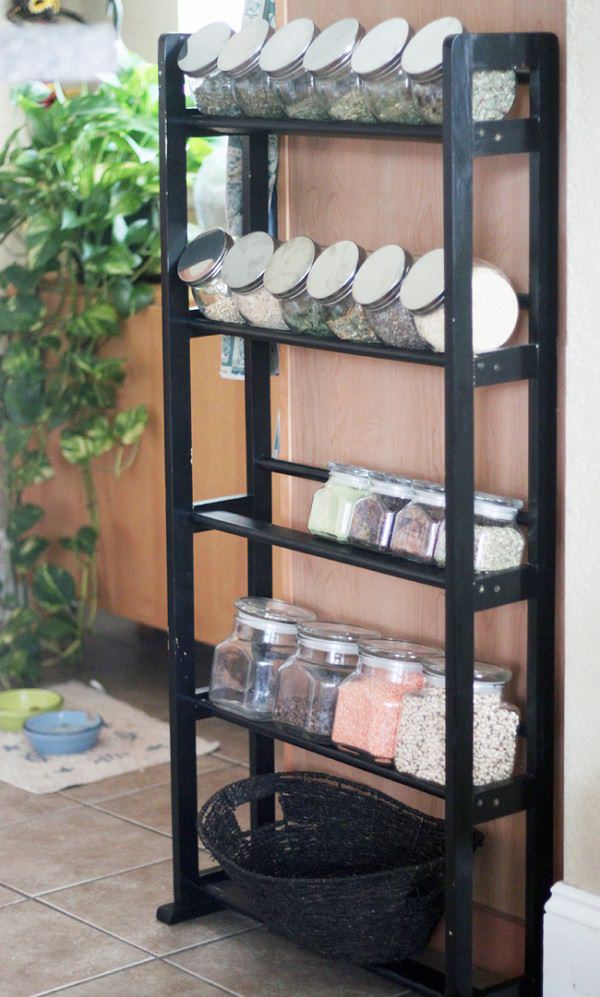 Take advantage of large glass jars and store spices in bulk. This simple DIY is a great way to display your spices in a rustic style. Using other elements like placing a basket in the bottom shelve, you can create an up-cycled masterpiece.
12. Re-purpose cooling racks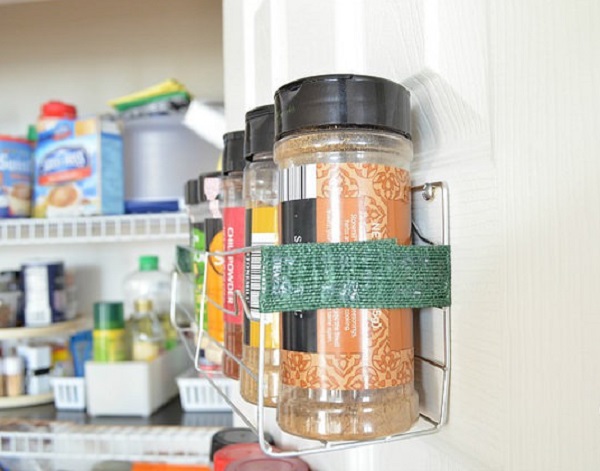 Cooling racks are not just functional, but they can add a unique decor to your space. Line up the spices in the racks for a fraction of the price.
13. Towel racks also work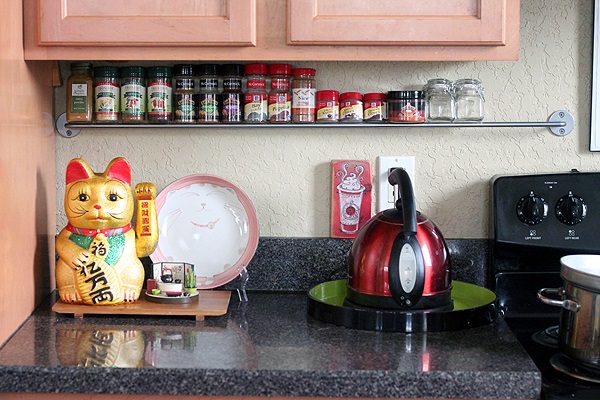 You can do wonders with your towel rack to create a clean counter spice space. This simplistic idea makes your spices available and convenient for use. Freeing up more space is always an added advantage.
14. Use old Dr. Pepper crate for classic style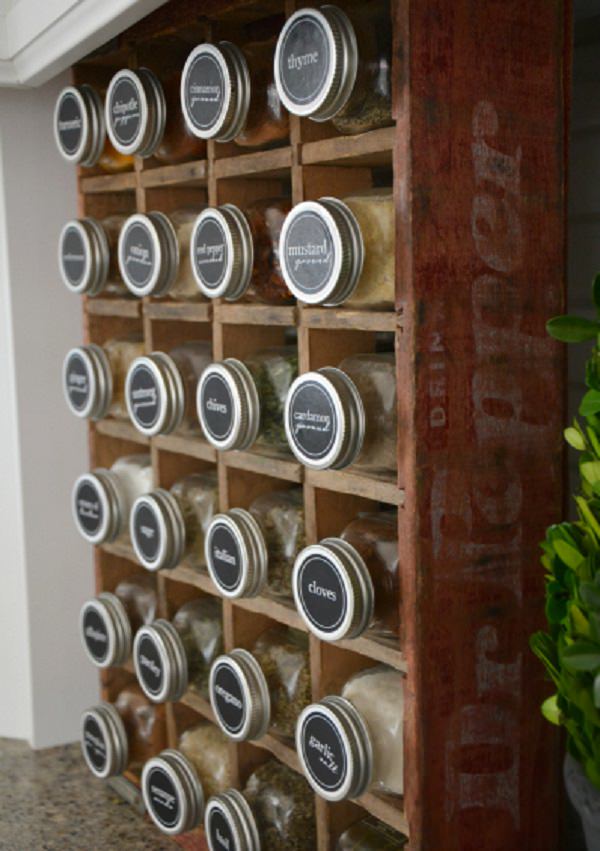 Dr. Pepper crates and similar vintage finds are the perfect ingredients to creating a spicy space for your spices. Play around with jars and labels to create something unique.
15. Make use of the shower caddy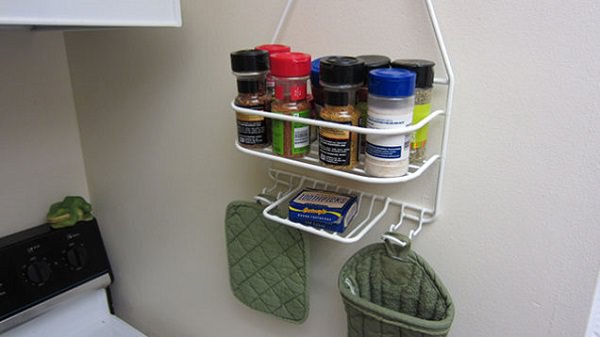 Replace your shampoo with some worthy spices in your shower caddy. This creative space idea will not just transom your space but will make it easy to get what you want easily.
16. Look under the cabinet for more space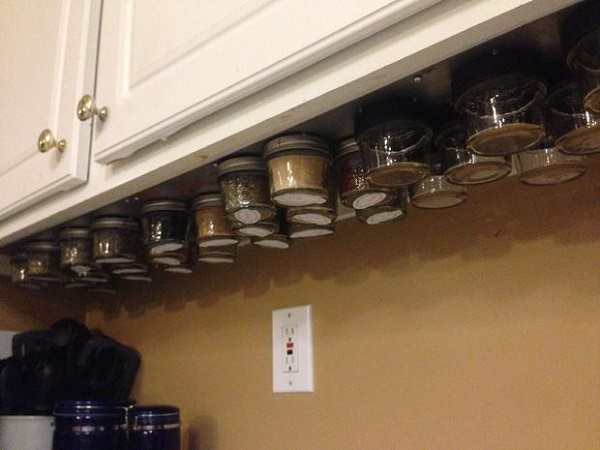 If you think you have run out of storage ideas for your spices, think again and consider creating space under your cabinet. This under cabinet storage is highly functional and economical.
17. Hang spice jars using wire and nail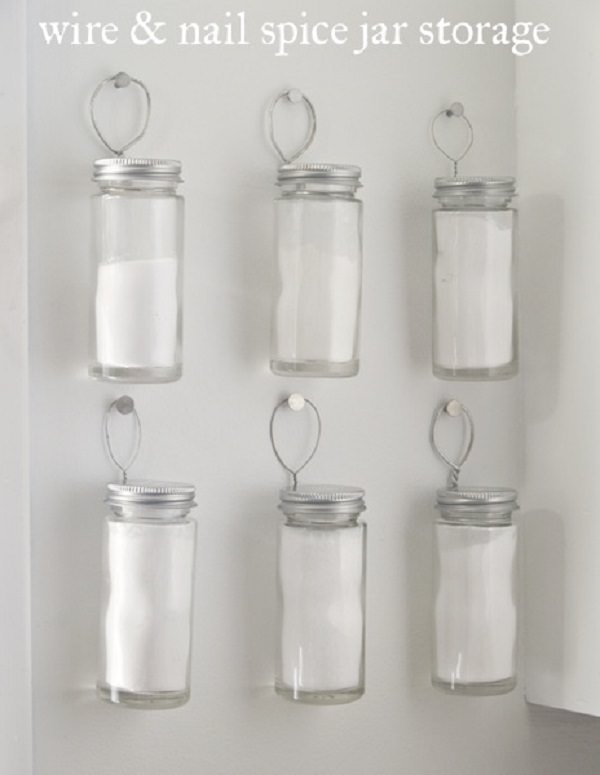 Using wire and nail, create this DIY storage by hanging your spice jars. The metallic tone will create a nice decor which can be both functional and aesthetic.
18. Make a file box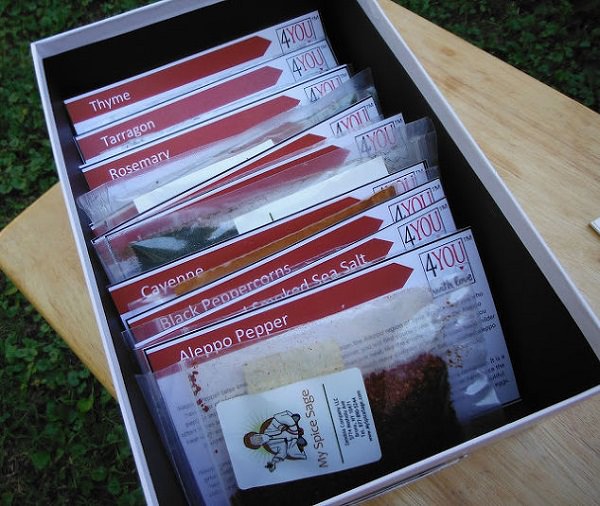 Store your spice in a neat file box. Creating this box is so simple, and all you need are a few items as shown here.
19. Mason jars can do the trick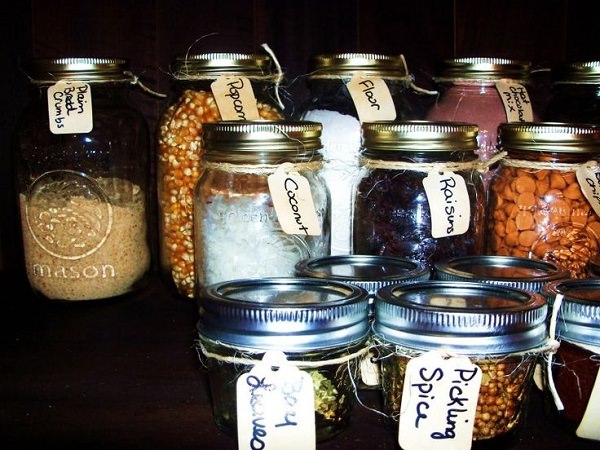 Put your mason jars to work by storing spices and labeling accordingly. Arranging them in a neat manner will make all the difference in your space.
20. Reuse tic tac containers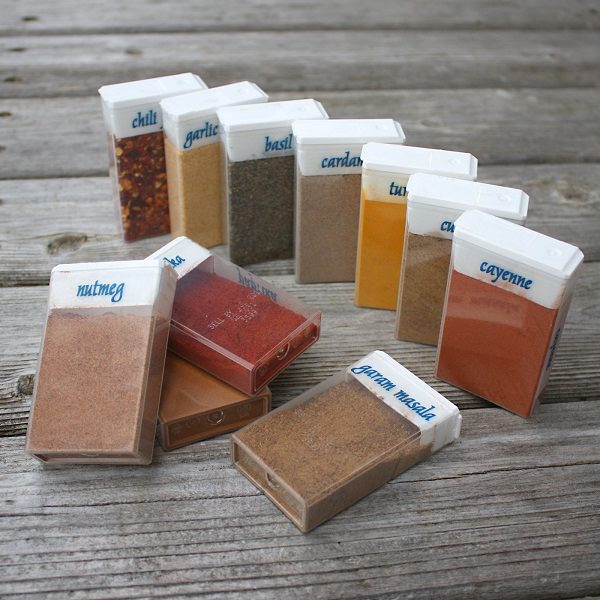 Tic tac containers can serve you very well for spice storage. Therefore, save some or get others from your friends and recreate them in the following manner. See more on it at thekitchn.
21. Deli containers will give more space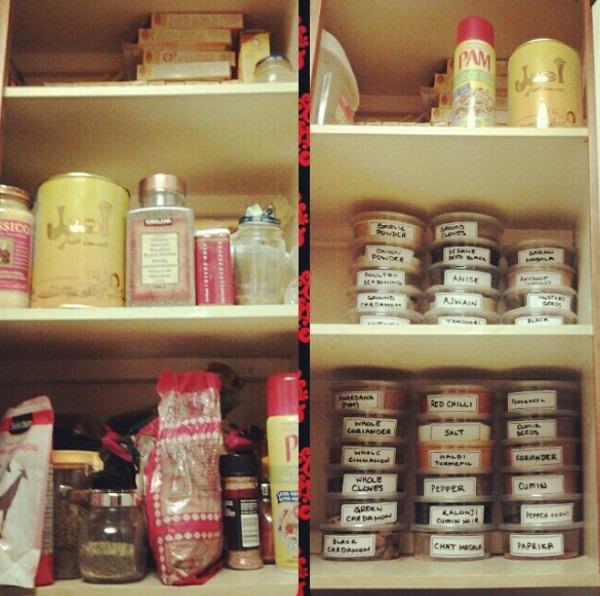 If you visit the deli often, why not save those containers and store your spices in them. This up-cycled idea will make your space a better place.
22. Go with a traditional spice rack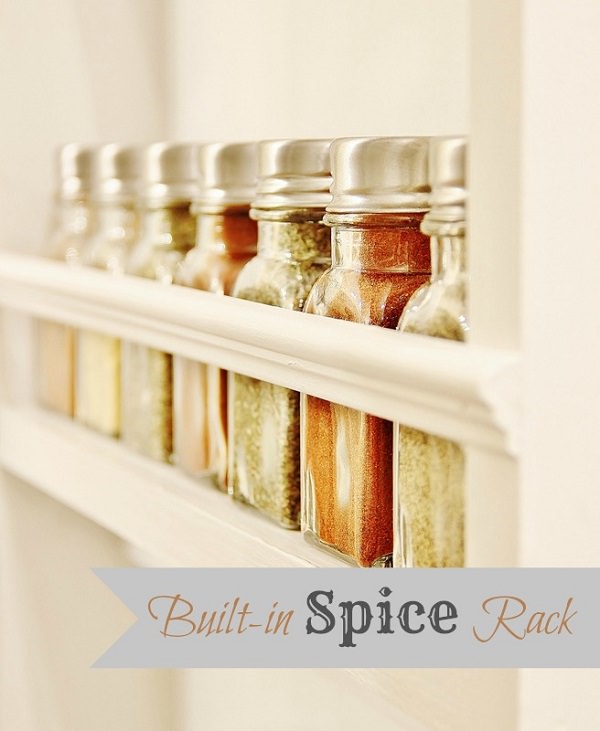 Organize your spices traditionally by utilizing this clean rack idea. It is a built-in piece that makes for both convenience and functional aesthetics.
23. Magnets make all the difference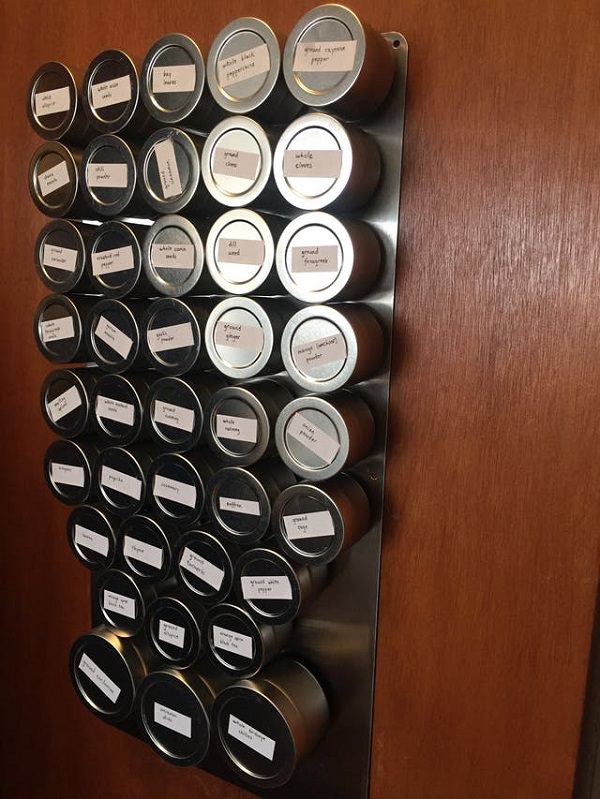 Leverage on magnetic power for spice storage. This is how you can make your very own rack.
24. Mounting spices made easy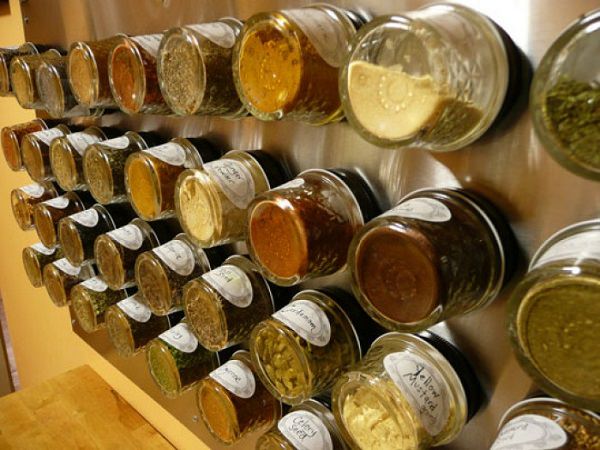 Mount your spices on a suitable wall in your kitchen as shown here. This idea is versatile and can be customized as desired.
25. Create a rustic spice rack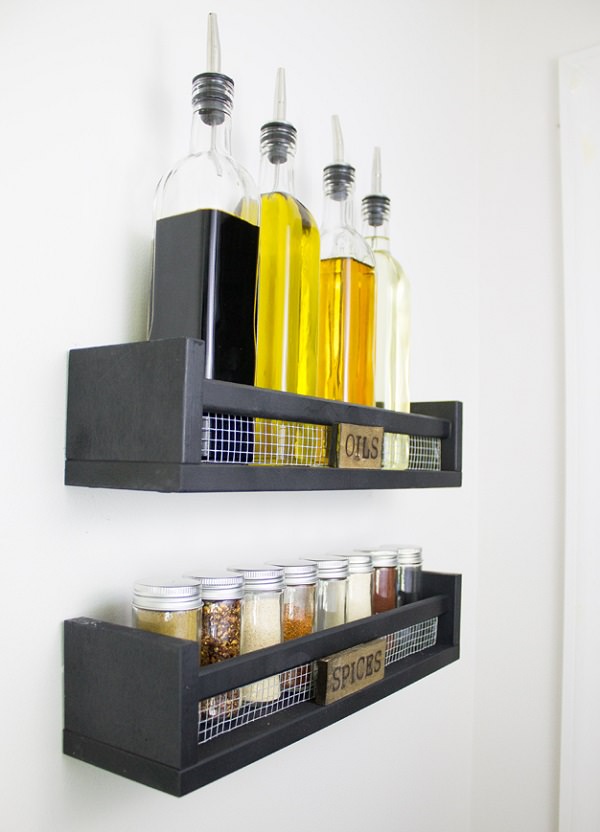 Employ a rustic style by making a beautiful and functional rack. This is a sure way to enhance your kitchen decor while conveniently storing spices.
26. Organizer spices in a superb way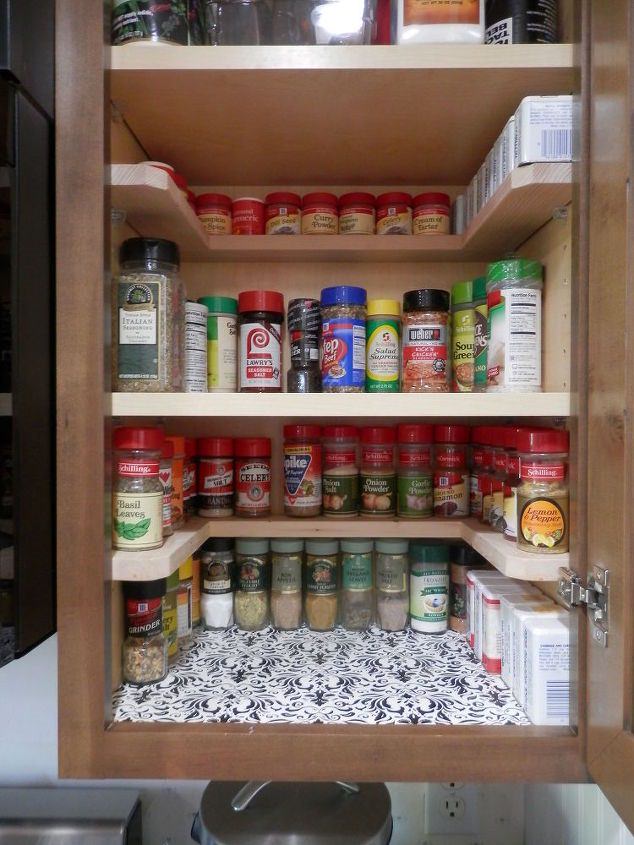 Make a unique spice organizer that will rival other products in the market. Check the tutorial on HomeTalk.
27. Uniform bottles and jars add style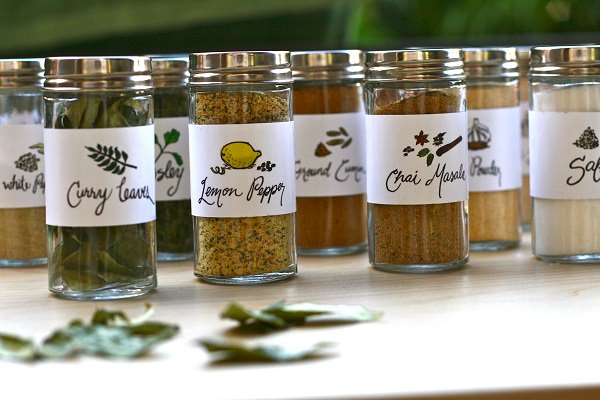 Using uniform glass bottles, you can also try this appealing idea. Old spice jars can also be reused to bring out this alluring decor that will add life to any space.
28. Make a periodic table of spices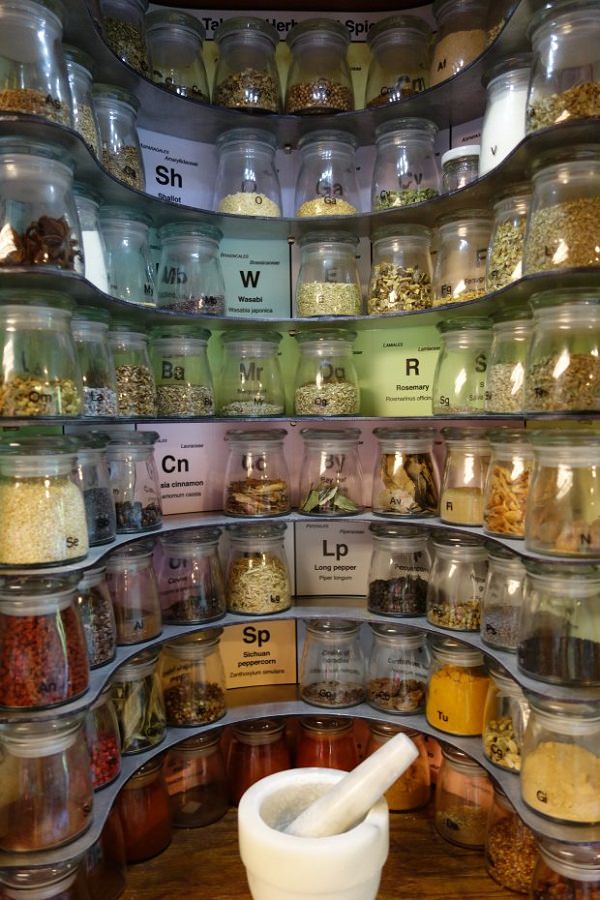 There is nothing more adorable and thoughtful than a periodic table of spice racks. Make this unique storage piece easily from the tutorial here.
29. Grippers help mount spices on wall space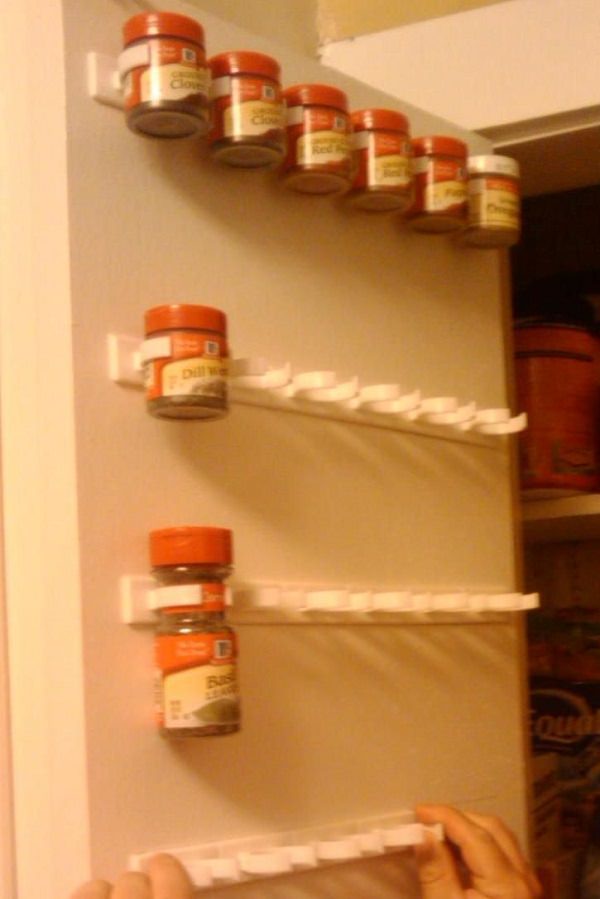 Spice gripper stripes are all you need to make use of your wall space for spice storage. Use various sizes and shapes to create your desired style.
30. A peg board for ideal spice storage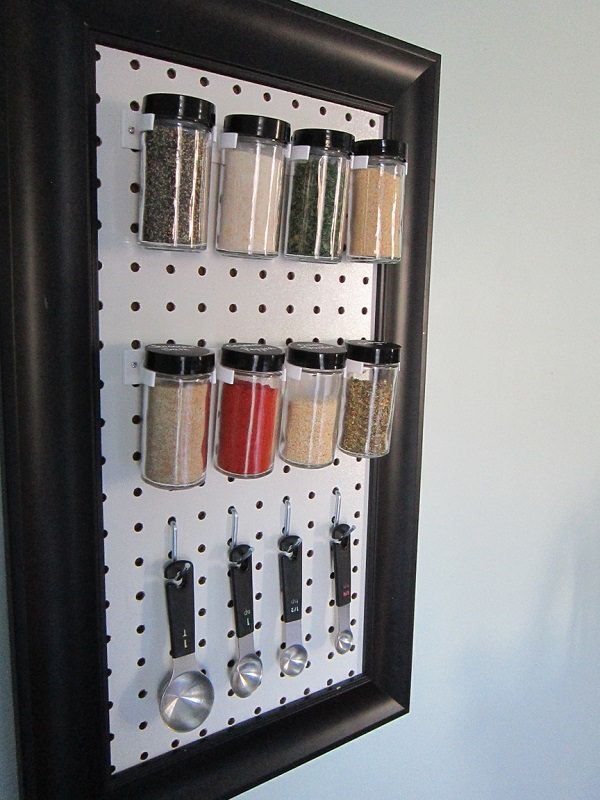 A peg board spice rack can add stylish appeal to your space. This easy idea works well to transform your space in addition to giving you optimal convenience.
31. Magnetic versatile jars deliver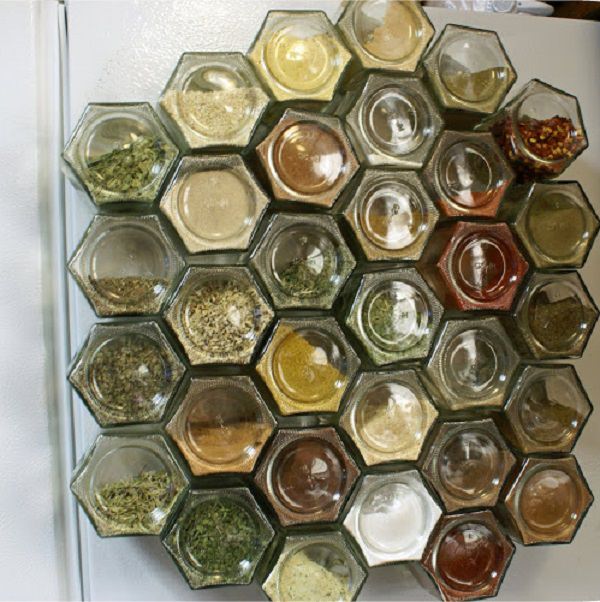 Add a unique touch to your kitchen by using magnetic geometric-shaped jars for storing your spices.
32. Make a simple magnetic chalkboard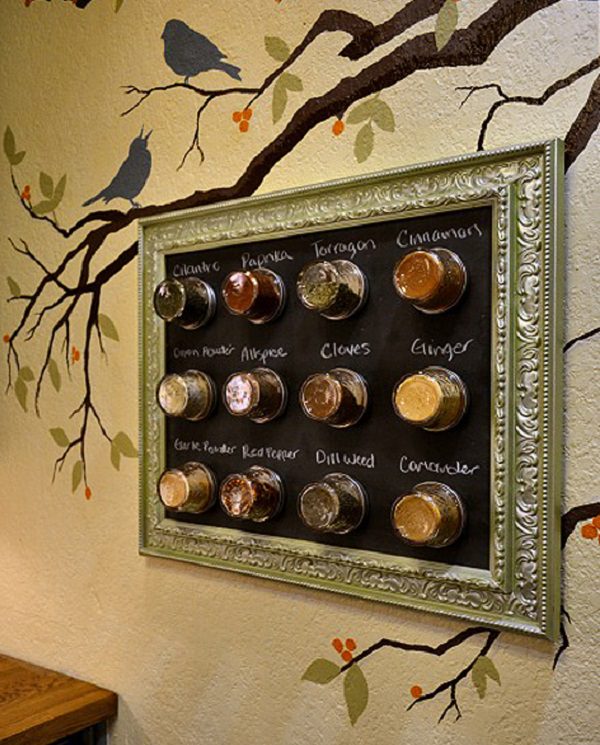 A magnetic chalkboard for your spices sounds like a good idea. This board can be framed and you can write labels on it and erase as you wish. It is a unique approach to spice storage that is sure to spark your space. Check the detailed tutorial here.
33. Slanted under-cabinet storage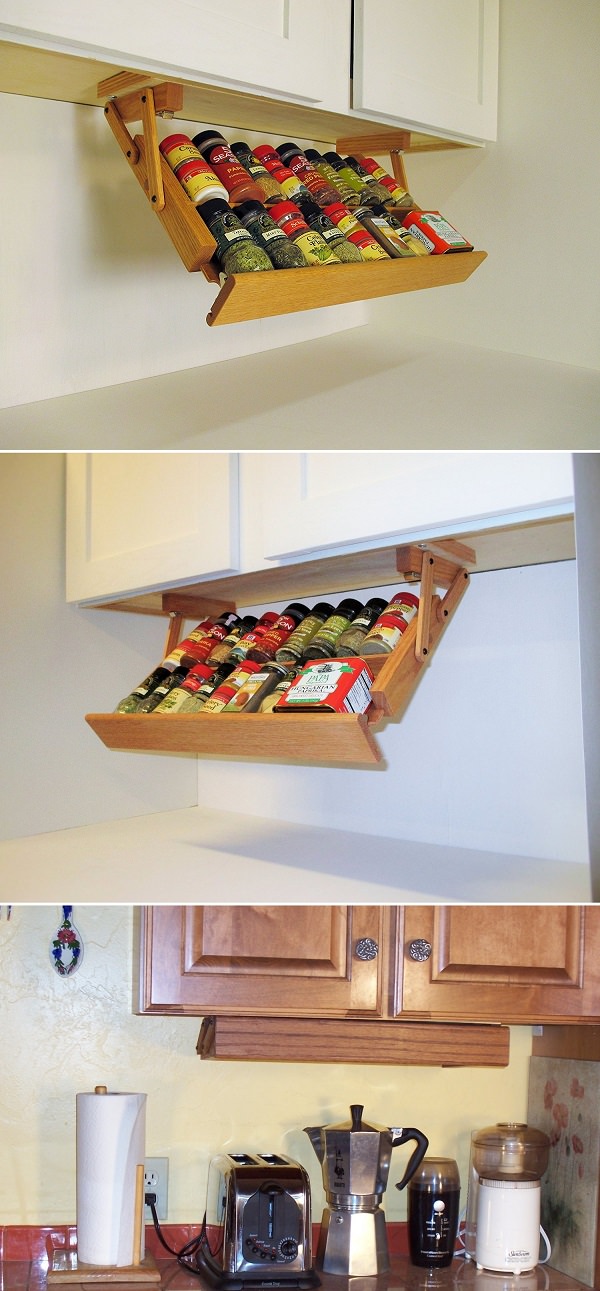 Still on wood racks? Try a slanted idea that will make your convenience even better. This storage is placed strategically under a cabinet. It functional and easy to implement.
34. Wooden shelves that make a difference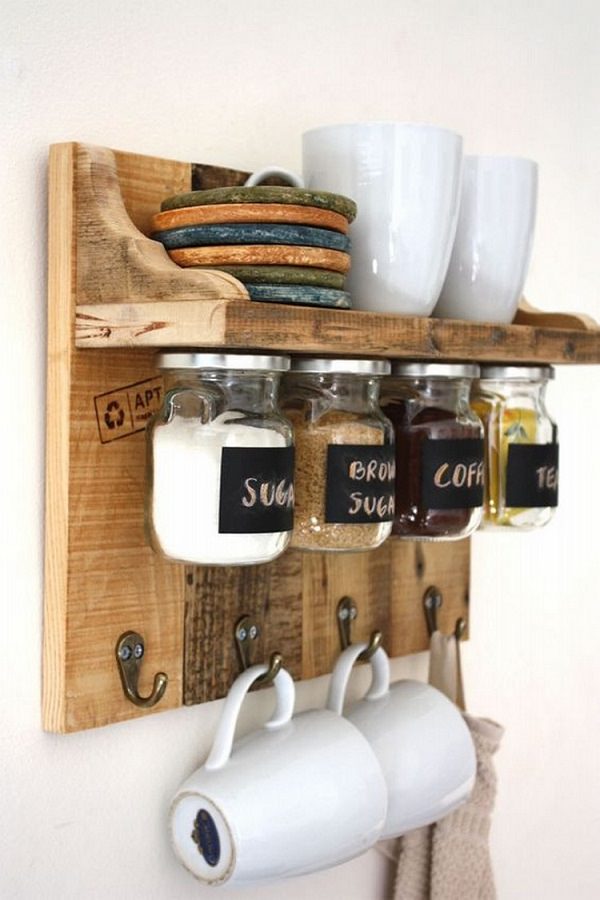 Consider creating these unique wooden pallet shelves for your spices. This style is surely worth looking at.
35. Optimize your rack for more storage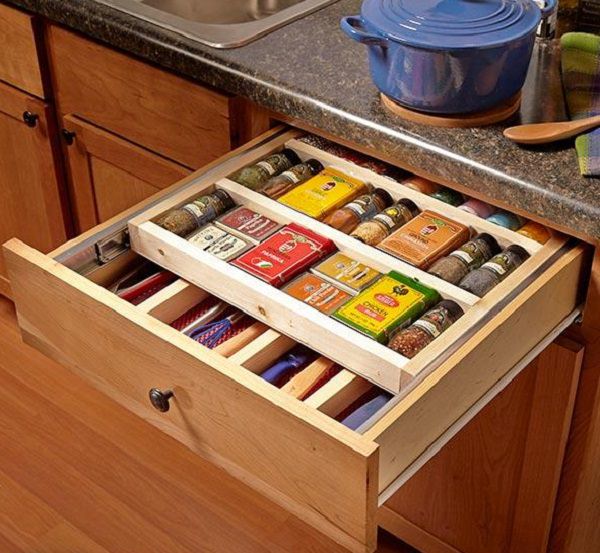 A two-tier drawer spice rack is what you need for optimal convenience and ultimate function. In just a few hours, your rack will be done. Tutorial on FamilyHandyman.