If you are planning or remodeling your kitchen, these guidelines are surely going to help you in doing it the best way!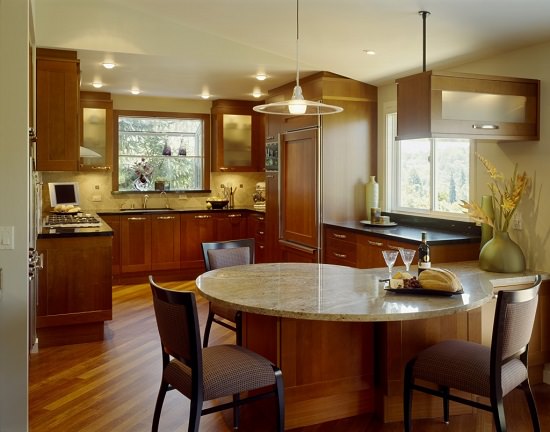 The kitchen is the heart of every home, and in it, beautiful memories are born. You not only eat there but also relax, talk and plan. Besides being the most complex area to design, the cabinets, appliances, and workspaces must be accommodated within the limited space for proper functionality while at the same time striving to create an aesthetically appealing environment.
Below is a list of kitchen layout guidelines for space design that you need to put into use at the drop of a hat to create the kitchen of your dreams.
1. Entry Space
The recommended entry space should be at least 34 inches wide. In the event you decide to install a door, it need not interfere with other elements such as the cabinets and appliances during opening and closing. Walkways must be at least 36 inches wide while passageways in work areas should be 42 and 48 inches for one cook and multiple cooks respectively.
2. Work Center
A typical work center, also known as the work triangle, comprises of the sink, refrigerator, and stove. These parts are used repetitively with constant movements between them and hence you ought to ensure they are all in the right place. The sum of the three distances should not exceed 26 feet, with a single stretch ranging from between 4 to 9 feet. The latter also applies to kitchens with more than three work centers.
In separating the work centers, using a tall obstacle that obstructs the view from one station to another is not recommended.
3. Sink and Dishwasher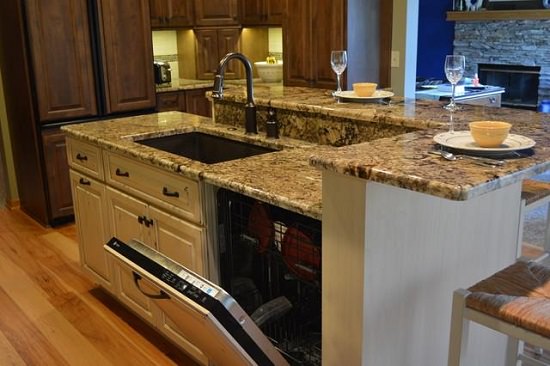 If you plan to have only one sink, place it across the refrigerator or adjacent to the cooking surface. If you choose to include a landing area, provide 24 inches on one side and 18 inches on the other. For an auxiliary sink, ensure to have at least 3 inches of countertop frontage on one side, and 18 inches on the other both installed at the same height as the sink.
The recommended distance between the closest edge of the dishwasher and the primary sink should not exceed 36 inches. Provide at least 21 inches between the dishwasher and other obstacles.
4. Countertop
Designers and design codes recommend that you should have a minimum of 158 inches long, 34 inches-wide span countertops available for use, having a depth of at least 24 inches and a clearance of at least 15 inches. Include at least a 24-inch wide countertop adjacent to a sink for prep work.
5. Refrigerator
Where you have the refrigerator, there are two options for the landing area: on the handle side of the fridge or both sides. Whichever you choose, provide at least 15 inches of the landing area.
6. Cooking Surface
12 inches and 15 inches of landing area on either side of the cooking surface is adequate. However, for an island situation, provide an extra countertop of at least 9 inches beyond the burner but with an elevation level equal to that of the cooking surface.
7. Separation
Provide a separation of 24 inches and 30 inches between your cooking surface and the surface above it for a protected noncombustible surface and unprotected surface respectively.
8. Ventilation
Ducted Ventilation is essential for cooking appliances, and designers recommend you use a minimum of 150 CFM.
9. Microwave
More often than not, a kitchen is considered incomplete if you do not have a microwave and an oven. Codes recommend proper placement of these two appliances depending on the user's height; preferably 3 inches below the shoulder and at maximum 54 inches above the kitchen floor.
Additionally, provide at least 15 inches landing area adjacent, above or below the handle side of the microwave and at least 15-inch landing area above or next to the oven. The preferred location would be a section where the opening the appliance does not obstruct a walkway.
10. Seating Space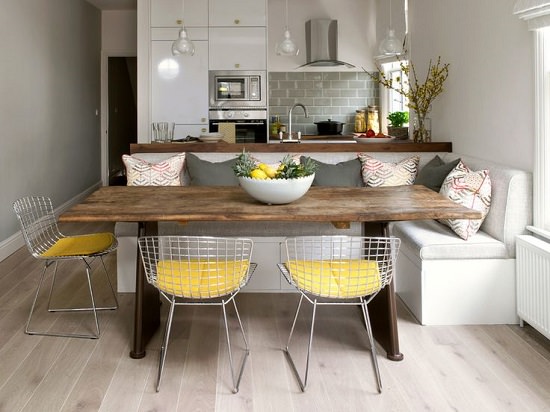 If there is no passageway behind the seated dinner, leave at least a 32 inches space between the table edge and the obstruction behind the seat. If not, allow a 36 inches and 44 inches clearance to edge past and walk past respectively.
Bottom Line
Incorporating these kitchen layout guidelines for space design will result into a kitchen that delights your sense of appeal. But no matter how stunning your kitchen is, safety is still of the essence. Remember to install as well a fire extinguisher that is visible and quickly accessible. Have it tested twice a year and teach everybody in your household how to use it.